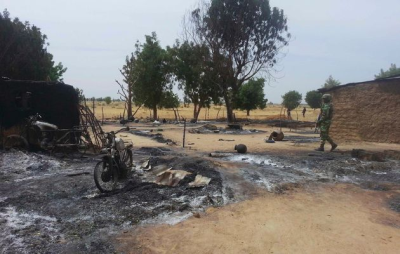 By World Watch Monitor
At least 99 people have died in suspected Boko Haram attacks in two locations in Northern Nigeria on Sunday, January 26.
Attackers stormed a Catholic Church in Wada Chakawa village in Adamawa State during a worship service. They fired guns, set off bombs and took hostages. There are currently still conflicting reports about the number of casualties, but it seems that around 26 people died. Local media reported that the attack lasted from 10 am to 2 pm and included the destruction of several homes in the area.
Later on Sunday at least 52 people died when suspected Boko Haram insurgents set off several bombs at a busy market in Kuwari in Borno state. Three hundred homes were also burnt down. On Monday two bombs left behind also went off, narrowly missing security personnel busy with clean-up operations.
Adamawa and Borno, along with Yobe state, are still under a state of emergency imposed by the government in May last year in an effort to root out the sect.
Gerrit Coetzee, CEO of Open Doors South Africa, urges Christians to pray for God's grace to all affected by these tragic incidents. He says: "Please pray that there will be an end to this cruel war against the people of Nigeria, and Christians in particular. Our brothers and sisters there needs to be strengthened through our prayers."