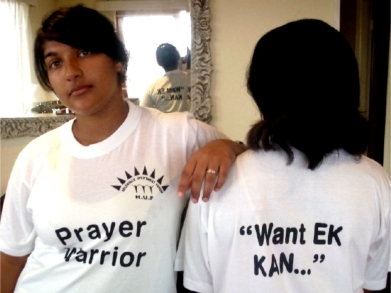 Port Elizabeth prayer warriors will gather in force in Helenvale on Saturday morning to pray against crime in the troubled area.
Organisers of this mass prayer event, the Helenvale Upliftment Forum (HUF), urge Christians in the city to turn out in numbers for this strategic prayer initiative that was inspired by General Dawie Rabie, Mount Road Cluster Commander of the South African Police Services (SAPS), who called on churches to lead the charge against rampant gang-related crime in Helenvale.
The starting time and starting venue has been changed for logistical reasons. Prayers are asked to meet at 9am on Saturday at the Gelvendale High School on the corner of Stanford Road and Gail Road. Marshalls will be available to assist with parking and there will be a strong police presence in the area to assist with security.
The HUF has had T-shirts made, bearing the label "Prayer Warrior" on the front and "Want ek kan" ("Because I can") on the back. HUF spokesman Pastor Tyrone Strydom said the slogan was intended to inspire Helenvale residents to understand that in united prayer they could make a difference by pulling down the evil strongholds behind crime and poverty in the area. He said the idea was for as many prayer warriors as possible to wear the T-shirts which were being sold at cost for R40 each. He said the HUF had ordered T-Shirts in faith, despite limites resources. He called on any sponsor or sponsors who supported the cause to contact him at 082 851 6933 if they were willing to fund the production of more T-Shirts for use in ongoing campaigns to bring hope and healing to poverty-stricken and crime-ridden neighbourhoods.
On Saturday prayers will pray on every street in Helenvale and will anoint every street with oil.