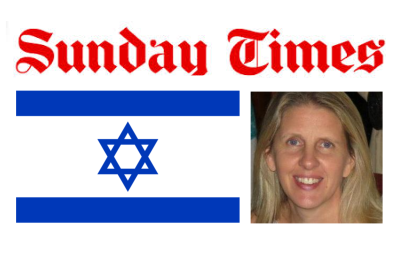 The campaign to raise funds for a full page advertisement in the Sunday Times to "bring the truth about Israel" has had "tremendous support" and the advertisement will be placed this Sunday (August 31), said the project visionary, Vivienne Myburgh.
The project which she initated because of "a lot of misinformation and negative media about Israel" raised more than R200 000 towards the R346 500 cost in just over a week, with many still pledging to support as well, she said.
"We thought to delay the advert till next week to give us more time to collect the balance of close to R100 000 still needed. However, we got a call today [Thursday, August 28] to say that the Sunday Times would give us an additional R65 000 discount for this Sunday, as per our original date. We are still slightly short, but feel to go ahead with it this Sunday, due to the additional favor we have received. But now we are under pressure to get this out by tomorrow so needing wisdom and energy," she said from Stellenbosch this evening. She said she and her team of five co-workers scattered around different centres were still hard at work finalising the content and artwork for the ad.
Myburgh, a prominent pro-Israeli Christian activist, said the main agenda of the ad is to emphasie that Israel lives because the God of Israel lives, to educate on facts around Israel's legitimacy, and to bless Israel.
"What an honor to do that!" she said regarding blessing Israel.
Anybody wishing to support the campaign can pay into the following account:
Account name: Am Israel Chai ( means: The people of Israel live!)
Branch – FNB Stellenbosch – 200610
Cheque account – 62490309088