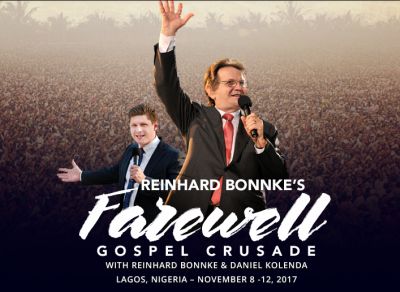 Evangelist Reinhard Bonnke will hold his last mass crusade and impartation service in a fortnight in Lagos, Nigeria — the same city where his cry for a million souls to be saved in a single service was realised in the year 2000.
The Christ for All Nations (CfaN) crusade with Bonnke and CfaN president and lead evangelist Daniel Kolenda from November 8 to 12 will be broadcast by TBN, Daystar and GOD TV and shared via a 24 hour livestream from Lagos. Healing evangelist and Gateway News columnist Lindy-Ann Hopley will also be there and will file special reports for Gateway News during the crusade week.
After a vision in the early 1970s during which Bonnke saw the map of Africa washed in the blood of Jesus, he spearheaded one of the greatest revival movements on the continent through mass gospel crusades that have seen millions in attendance and over 76 million documented decisions for Christ to date, says CfaN in a press release.
A key component of Bonnke's upcoming crusade in Lagos will be the Passing the Torch Conference for the next generation of leaders in the ministry and the marketplace. Bonnke is believing for a great impartation and a harvest of souls — men and women from all walks of life who will rise up and carry the torch of the gospel to the four corners of Africa and beyond, says Cfan.
"Ever-passionate for souls, Bonnke is a firm believer that the world can be evangelised sooner than we think, if only we could get all hands on deck.
"Bonnke believes that the Holy Spirit is the key to the success he has seen in over 40 years of ministry. And Bonnke does not just talk the talk. Bonnke's crusades have been marked with powerful healings, miracles, and signs and wonders. He has seen witchdoctors and people bound in the occult become transformed by Holy Spirit-powered gospel, and he is believing for an even greater move of the Spirit in this last crusade. For those who have been praying and believing for physical healing, this crusade in an opportunity to experience the power of God," says the press release.
Echoing Bonnke's great anticipation for the November crusade, Kolenda,  declares: "With the power of the gospel, this generation can make the dark places bright and the lighted places brighter."