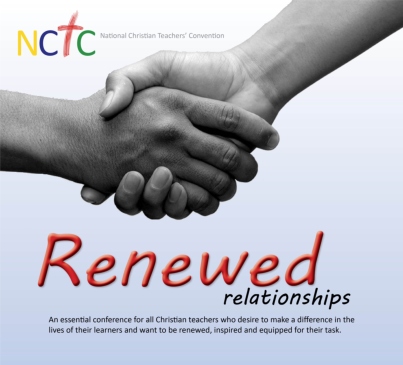 Renewed relationships is the focus of a national educational convention that aims to inspire Christian teachers to carry on teaching despite the overwhelming odds against the profession.
"We are trusting the Lord to bring breakthroughs and healing in this specific area," says Karen Erasmus, secretrary of the National Christian Teachers' Convention (NCTC) which is holding its annual convention in Bloemfontein from September 29 to October 1.
"We feel that when relationships have been restored, then teachers can once again focus on what they do best – teaching, leading, coaching a generation that can love and serve God. We also want to see teachers play a leading role in bringing about change in the community that they serve."
Christian principals and teachers from public and private schools throughout Southern Africa are invited to attend the convention at the Oranjemeisiesskool, Bloemfontein. Registration forms are available on the NCTC website. Intercape Bus Services has sponsored the convention with a number of half price bus tickets to assist delegates with travelling costs. The early bird conference fee (until September 3) is R1 050 (including accommodation) and R750 (own accommodation). Thereafter the costs will be R1 200 and R825 respectively.
The main speakers at the conference are Dr Jannie Compion, the Zambia-based, African Director of the Foundation of Cross Cultural Education (FCE), which initiated the annual NCTC in 2009; and Felix Muchimba, a former teacher and current principal and team leader of the GLO Discipleship Training Centre in Zambia.
Compion is passionate about taking Jesus to Africa – to bring about change in the community that he lives in. He is passionate about teaching people to fish instead of just feeding them fish. He is also totally dedicated to the calling on his life – making disciples for Jesus Christ, no matter what the cost.
Muchimba and his wife, Eve have an extensive Christian marriage ministry, and his passion is to develop a church leadership in Africa that is spiritual, relevant, and prophetic in addressing contemporary issues facing the continent.