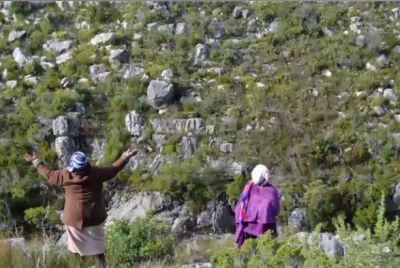 About Wellington
This vineyard village is truly at the heart of South Africa's wine industry, not just geographically, but also because most of the country's rootstock material for vines comes from the local farms. As one local says: "It all starts in Wellington".
Wellington, which is named after the British duke who defeated Napoleon at Waterloo, developed through the ages from being a border town for the Cape Colony to a hub for academia, a centre for the leather and piano-making industries and then eventually to the destination for wine connoisseurs and casual weekenders that it is today. (Excerpt from Cape Town magazine article)
Mountaintop
God was brewing something new at two seemingly unrelated events in the Wellington area last Saturday.
One was a gathering that recalled the enduring prophetic words of our beloved Dr Martin Luther King Jr in his  "I have been to the Mountain top" sermon at Memphis Tennessee in 1968 — "Like anybody, I would like to live a long life. Longevity has its place. But I'm not concerned about that now. I just want to do God's will. And He's allowed me to go up to the mountain. And I've looked over. And I've seen the Promised Land."
About a hundred married women gathered on a Wellington mountain slope for the annual Isiseko women's retreat, for a time of reflection, empowerment, equipping and most importantly impartation, to return to their families resolute, having overcomed "self", ready to roll up their sleeves, no longer being perturbed about the challenges of marriage and life, but fixing their eyes on their maker.
Since 2011, Isisiseko Family Institute has been faithfully hosting these retreats with limited, yet significant responses.
At this year's gathering at the Bainskloof Christian Centre, however, there was tremendous excitement as they saw "the hunger of women, young and old, to return to God, crying for themselves to be godly women, and to build their homes no matter the challenges at hand and to come," said Dolly Mgoqi a rector of Isiseko.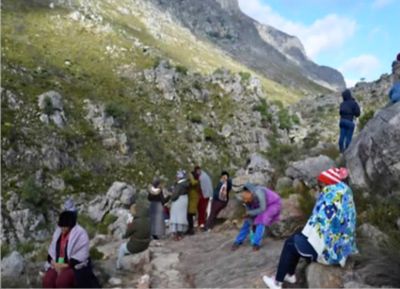 Isiseko Family Institute was birthed by Mbulelo and Nombulelo Bikwani with a heart for: "Save the world but men first" which then inspired their vision "To provide a safe, positive environment for hurting people of God to celebrate fellowships and friendships with one another and connect with God in pursuit of a God-fearing life. Isiseko Family Institute supports these individuals and families on their journey of faith to become fully functioning and dynamic servant-leaders, to love God and their fellow men, and to change their world."
Valley bottom
A few kilometres away from Saturday's women's retreat, down in the valley in the scenic Agter-Paarl, believers gathered in the Salem Biblical Garden for the Call to Unity 2018 and Beyond to raise His Banner for the Nations.
Owner of the land Jack Carstens responded to a call from the Lord to establish a biblical garden. So far, a 500m pathway has been carved out of the natural fynbos on the farm. It has 10 exhibits depicting biblical scenes which have been constructed to tell important parts of the story of redemption from the Old and the New Testaments.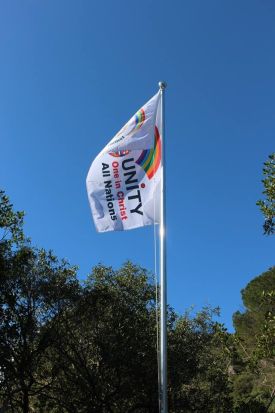 The valley gathering was a call for unity arranged by Marcel Durler who received a word on April 12 2018 in Jerusalem, Israel. The Lord gave him this word at 2.30 am, saying: " It is only the beginning".
He was instructed to gather believers across denominational lines on the 14th day on Saturday and  July 14 was the only open matching date. Saturday's gathering was the 5th Call to Unity since 2012. A banner of unity had to be  raised at the event as a sign of unity of the body under one Lord.
Jesus Christ is our banner. "Let him lead me to the banquet hall, and let his banner over me be love" — Song of Songs 2:4.
It was by the grace of our God that this meeting led us back into the garden, the original place of authenticity and meeting with the Lord.
I joined believers from across Cape Town who gathered to raise up a banner of unity at the sanctified prayer room right in the middle of the garden.
Among the attendees was Brother Marko, a Turkish missionary in South Africa with a heart for the Jewish and Muslim community being reconciled to each other. "There is no longer Jew or Gentile, slave or free, male and female. For you are all one in Christ Jesus" — Galations 3:28. Marko is currently based in South Africa, educating, awakening the church on the rising culture of anti-Semitism in our nation that is a big threat to the peace and well-being of South Africa.
I have always been encouraged to see the diverse groups of our nation coming to worship and pray to the King of Kings together. There is nothing more beautiful and colourful than the type of unity in diversity on display last Saturday. Surely the hand of the God is drawing us all to Himself in the valleys and the mountaintops.
"He will raise a banner for the nations and gather the exiles of Israel; he will assemble the scattered people of Judah from the four quarters of the earth" — Isaiah 11:12
One banner, One Lord, Jesus Christ! Unity – 'One in Christ' – All Nations