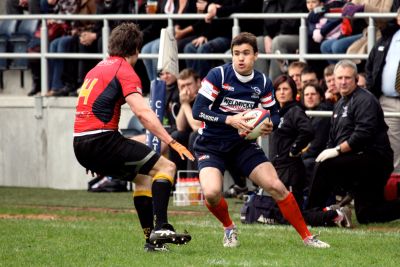 A South African rugby ace is returning from the UK to his home continent with something of a heavy heart, but is nevertheless excited by new challenges ahead.
Donavan van Vuuren, who scored 56 tries in 101 games for Yorkshire club Doncaster Knights, is taking up a position as housemaster at a new private school in Zambia.
He first came to prominence as a member of the highly-acclaimed Western Province side back in Cape Town before signing with Cardiff Blues.
But the main focus of his life is on his Christian faith, which became active when responding to a preacher's invitation while he was still a teenager.
"Most of us Afrikaners grew up knowing about God without really turning that into a personal relationship with Jesus," he told me. "I was just 17 at the time and was blown away by the realisation of God's love."
He was already in love with rugby. "Every Afrikaans young boy wants to play rugby for the Springboks," said the 37-year-old winger. "I didn't quite manage that, but I always wanted to play for Western Province, and that dream became an unbelievable reality for me."
And the game has provided him with the perfect platform from which to share his faith. "I've never been ashamed to tell people I'm different because of my faith – that you can be extremely happy and content without resorting to drunken revelry."
And it's these values he's being trying to instill among the youth of the Doncaster church – Bessacarr Evangelical – where he and his family have been so happy for the past nine years.
"I encourage the kids not to compromise on their faith; to stick at it and make a difference for God; that though they have battles to fight (especially with regard to peer pressure), the war has already been won through Jesus."
Of his church, he says: "They have really shown us what it means to be part of a church family. We'll miss that very much. But we're excited by the new challenges ahead."
Donavan will also be saying goodbye to the schools of the Bassetlaw district in north Nottinghamshire, for whom he has been School Games Organiser, and will be returning to family in South Africa before travelling north to take up his new post in the Zambian copper belt, just 100 miles south of the Congo.
He looks back to his time at the Knights with great affection: "I feel I was playing for them during their best seasons (2004-2009) when they finished as high as third and fourth in the Championship. I also played for the Barbarians (the British-based invitational team) during my last season there.
"We've had an amazing time here. And I'm just so overwhelmed by God's blessing. We just can't thank God enough for how he's blessed us. My one prayer is that, in some small way throughout my life, I can reflect God's love to people, because he loves us more than we can imagine."
With a Masters degree in coaching science from Cardiff University, Donavan is married to Debra, and they have three young children.