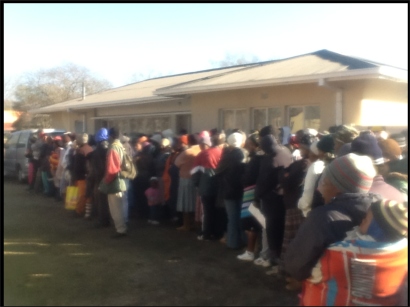 Every Wednesday more than 200 people gather in front of the house of leading South African gospel musician Israel Mosehla and his wife Millicent. They are not there for music for the soul, however, but for food for their empty stomachs.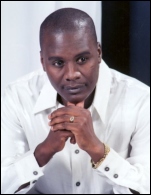 It all began one day in early March, said Israel, when the couple saw an old lady opening a refuse bag they had put in front of their Vanderbijlpark home for removal by the municipality. When the woman took rotten food out of the bag and began to eat it they asked her to stop and invited her into their home for something to eat.
Millicent found out from the woman that after her husband had died she had been left to look after her children alone. But there was no income in the home and often the children went to sleep hungry.
Many in same situation
The Mosehlas gave the woman some food to take home to the children and invited her to return for more food the next Monday by which time they would have had an opportunity to buy vegetables for her and her family. The woman said there were many people in her area in the same situation as her, and so the couple asked her to bring four or five women with her so that they could give them some vegetables as well.
The women came next Monday and Israel and Millicent said they should come every Monday to collect vegetable packages for their families. The next Monday 16 women arrived and the Mosehlas divided the food among them.
The next week 35 people arrived for food. And by the fourth week the number increased to 64.
Sense of panic
By week four Israel said he and his wife began to feel a sense of panic as they feared they would no longer be able to afford to feed the increasing number of hungry people.
"An astonishing 138 people arrived on the Monday that followed. The amount of people exceeded the amount of vegetable packages we had put together that morning," he said.
"We are now, through the grace of God, handing out vegetable packets to over 200 people every Wednesday."
Israel said that because of the increasing number of people who arrived each week, he and his wife had had to reduce the size of the food packages.
"We try our best by Gods grace of course, to make sure that every person goes back home with something.
With the number of people who come for food now at around 250, Israel has invited others to contribute towards the project in any way they can. He said a friend has started giving R500 a week and a municipal official has donated clothes which were given to the needy people.
Meanwhile, in search of a more sustainable solution, Israel approached the Executive mayor of the Mfuleni Local Muncipality, Greta Hlongwane, about the possibility of securing some land at a low price, where the people he and Millicent were feeding, could grow vegetables. He said he had a positive meeting with Hlongwane and the option was being explored.
Anybody who is interested in supporting the project can contact Israel at 071 478 3306 or israelmosehla@kgabo.com.