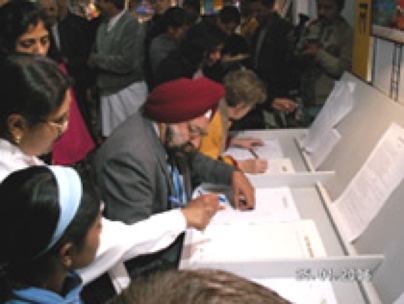 South Africa will soon start participating in the Israeli Government-backed "People of the World Inscribe the Bible" project which aims to hand-inscribe the Bible in 100 different languages.
The completed Bibles will be displayed in a huge museum called the Bible House which will be sited in Bible Valley, a  proposed themed tourism destination to be developed just south of Jerusalem that will replicate village and country life in the area as it was 3 000 years ago.
Pretoria launch on August 23
In a leaflet promoting the South African launch of the Bible House project in Pretoria on August 23, the hosts say: "The leaders of modern day Israel acknowledge the Bible to be the most important gift that their nation has given to the world. They are hereby giving an opportunity to every nation that has received the Bible, to inscribe it in their indigenous languages in the handwriting of individual participants, on scrolls especially prepared in Israel."
South Africa will join around 50 nations from every continent that have already started participating in the project since 2006.
South Africa is the second African country to join the global project, following Keyna, which is hand-writing the Bible in Kiswahili. South Africa is the first country to ask to inscribe the 23 127 verses of the Bible in more than one language — a decision that will add to the local funding implications.
Each person who inscribes one verse or more will receive a certificate acknowledging their participation. In addition their names and the verses inscribed will be added to the Bible House database which is accessible on the project's website. South Africans will have opportunities to inscribe verses at the launch and at further events that will be arranged throughout the country.
The August 23 launch will be a formal-dress event from 10am to 2pm at the Southern Sun Hotel, Arcadia, Pretoria. The hosts are Amos Relnik, International coordinator of Bible Valley, Israel, and Olusegun Olanipekun, CEO of the Institute of Christian Leadership Development (ICLD) which is coordinating the project in South Africa. Bible Valley is a a non-profit association which is running the global project  in cooperation with the Israeli Foreign Ministry and Public Diplomacy and Diaspora Affairs Ministry. More information about the launch can be obtained from the ICLD office by calling 012 803 5877 (Tuesday to Friday from 9am to 1pm ) or by emailing them at admin@icld.co.za.