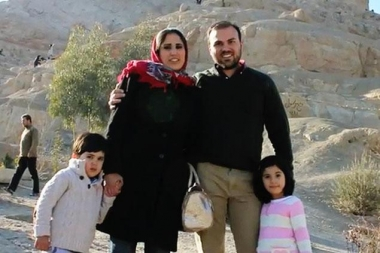 Originally published in Christian Today
This week sees the two-year anniversary of the imprisonment of pastor Saeed Abedini in Iran.
Abedini, a US citizen, was working on an orphanage project in his native Iran when he was arrested for "threatening the national security" and sentenced to eight years in prison.
His family say he has been beaten in prison and that the abuse has been so severe that it has required hospital treatment.
Abdedini's wife Naghmeh reported last month that her husband had received death threats from members of the Islamic State imprisoned alongside him.
US Secretary of State John Kerry has called upon Iran to release Abedini, along with other American citizens being held in the country.
"The United States remains committed to returning all of them to their families, friends and loved ones," said Mr Kerry.
The second anniversary of his imprisonment on September 26 will be marked with 460 prayer vigils taking place across 30 countries.
Naghmeh said: "We are praying for a miracle. My hope is that, as thousands gather together on September 26, our governments and leaders will be reminded of the importance of religious freedom for all and continue to pressure Iran to secure Saeed's release."
Naghmeh has spoken movingly in the past of the way her faith in God is helping her and her husband get through the difficulty of his imprisonment.
"God is holding me up. I can see from Saeed's letters that God is holding him up too," she said in an interview with International Christian Concern's president Jeff King.
In a powerful testimony, she said the time since his imprisonment had been "very hard" but added that "spiritually, it is the best time in my life".
"I wouldn't trade it for anything," she said.
"The Lord has counted our family worthy enough to send Saeed to a dark place that he would be able to share with people who are in complete despair."