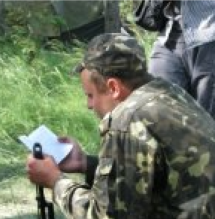 Originally published in Christian Telegraph
Russian President Vladimir Putin is causing tension between Russia and Ukraine to increase. Yesterday, Putin warned Ukraine that if they moved forward on a European Union trade deal, there would be a price to pay, reports MNN.
According to reports, Putin says Russia will put restrictions on Ukrainian exports bound for Russia, which would create even more economic turmoil for this beleaguered nation. Months of unrest have closed businesses, forced people out of some cities, and created a poverty unseen in recent years.
While troops continue to amass along the border, Christians are sharing a message of hope and reconciliation.
Wally Kulakof with Russian Ministries says they're handing out copies of the Gospel of John. "Hundreds of thousands of soldiers have received Scriptures in the Ukrainian language or the Russian language."
What is that distribution doing for the Kingdom?
Russian Ministries reports a soldier saved. Kulakof says, "One young man received the Gospel of Luke, read it, read it again, and read it a third time." That soldier came to Christ. But it didn't end there.
He was intrigued by the "love your enemy message." Kulakof says the soldier reported, "Here I am on the front. I can see my enemy…the Russian soldiers or the Russian separatists. He shared with his captain: 'Listen, this piece of Scripture has transformed my life. I have found Christ. I would like to get it to the Russian soldiers."
The captain wondered how this soldier was going to do that. The soldier told him he had been watching the Russian troops. Each night at midnight, the Russians would arrive at a particular tree stump to monitor the Ukrainian soldiers. "I'd like to go there during the day and leave the Gospel of Luke on the stump for the Russian soldiers."
He did it successfully. He returned the next day, reporting that he "found cigarette butts, found places where they were resting, but the two Gospels of Luke were gone."