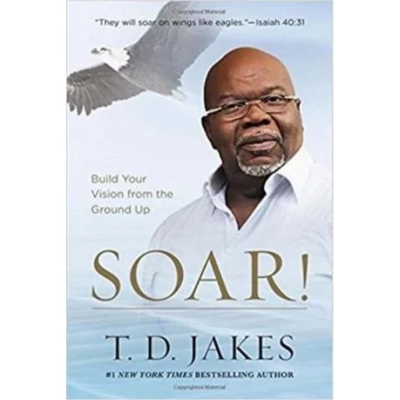 Book Review by Neziswa Kanju
Thomas Dexter Jakes, commonly known as T D Jakes, is a familiar face in many Christian broadcasting channels across the world.
Having founded and grown The Potter's House, a non-denominational church in Dallas Texas from 10 members to more than 30 000 members and having run his business ventures successfully through the years, Jakes shares lessons on how to build a business in his latest book SOAR: Build Your Vision from the Ground Up.
He draws lessons to how he started his mega-church The Potter's House and his business venture T D Jakes Enterprises.
Although a pastor, Jakes has expanded his influence to beyond the four walls of the church. His many varied business interests extends to the world of media, film and entertainment.
Jakes starts the book by using the famous aviation saying: "Cleared for take off". He takes the reader through aviation processes of what a plane has to go through to reach the incredible heights that it reaches during its flight.
A plane does not just fly off. The pilot has to make sure that all procedures have been followed before it can take flight.
Jakes admonishes entrepreneurs to do their research before "take off" in order to prevent a possible crash.
He takes the reader through practical steps of business. He emphasises the need for a business plan as that will keep an entrepreneur on course. He does not sugar coat the realities of business by shouting that it will all be fine.
He warns and reminds entrepreneurs that there will be storms but with proper strategies and business processes they can withstand the storms.
If the venture is to grow to greater heights, as in a case of a flight, the entrepreneur has to manoeuvre the business in a way that the business can withstand the new, higher levels.
Jakes encourages the reader to stay the course, even though they will face many discouragements and ridicule. They must focus on the vision.
He shares stories from how he learnt business lessons from watching his parents growing up. His biggest inspiration in his entrepreneurial journey was his mother, a visionary who bought a number of properties. She was a teacher by profession but had the foresight to expand her income streams in the property market.
He shares how he watched his father run his janitorial business. In the beginning his father worked multiple jobs to provide for his family.
When it was time to build his business he still had a hands-on approach. Jakes warns against being very hands-on as an entrepreneur. He says when you are over involved as an entrepreneur you have limited your ability to SOAR because you have not allowed yourself to reproduce yourself. He advises the reader to delegate.
There are many similarities between the American and the South African job markets. Jakes says he wrote the book as an answer to the challenges that America is facing: a low employment rate and the dire reality of graduates who are not finding work after their studies.
We know this reality in South Africa only too well. He discourages the reader from always looking to the government to provide the solutions. He says each of us has the responsibility to stop waiting on someone to rescue us and we design our lives and create the kind of life you want to live.
SOAR is a great read — an action-oriented book with many insights into how one can soar to greater heights in one's life and not just in business.