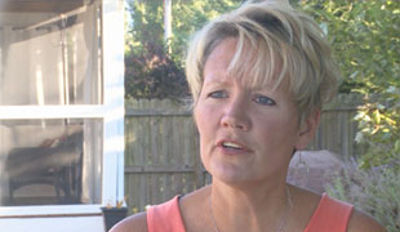 Originally published in Charisma News
After a 21-day fast, Erin Stevens heard God tell her, 'Go feed the strippers.' (CBN)
Last year Erin Stevens was a happy home-schooling mom of three and a pastor's wife in a growing church of several hundred.
Then, following a 21-day fast, she heard God speak—and what He said surprised her.
"I felt God impress on my heart 'Go feed the strippers,' which did not make a lick of sense to me," the Tennessee native told CBN News.
"I grew up in a Southern Baptist home with a deacon daddy and a Sunday school mama. I never drank. I never smoked. I was a virgin when I got married," Erin said. "I'd never been to a strip club. I didn't know anybody in a strip club. So why would I do that?"
Her pastor husband Todd Stevens, though, was quick to back the command from on high.
"The minute I heard from God, I told Todd and he said 'go.' He didn't even pray about it," Erin recalled. "He just said, 'That's what we're going to do.'"
A divine push
Todd explained that's because it seemed such a logical next step for the extremely outgoing kind of ministry their church embraces.
"We've always tried to cultivate a culture where people who are far from God, people who are broken, feel very comfortable," the young pastor of Mt. Juliet's Friendship Community Church said. "They can come, hang out, and bump into Jesus."
"I picked up the phone the next day," Erin said. "I called the general manager at the largest strip club in Nashville and just said, 'I would like to come feed your girls. I'm not going to preach. I just want to show God's love in a practical way with no strings attached.'"
Nashville, Tenn., is known as the wholesome home of country music. But there's a dark side that includes more than a dozen strip clubs. Still, Erin's husband said the strip club surprisingly welcomed his wife's offer.
"She called and from the very first call, they were just open arms," Todd said.
Todd said the club manager told Erin, "'Absolutely. Can you come next Thursday? We'd love to have you.' And so she was off and running."
Since October 2012, she's kept going every other Thursday, bringing a big meal or huge cupcakes each time.
A few months in, she felt a new divine push to also start taking gift-filled goodie bags every time she visited the strippers—but still no open preaching.
"We never took a Bible. We never took a tract. We just talked to the girls about their lives, about their kids, about where they're from," Erin said. "We started building relationships with them. We wanted them to see Jesus in us."
'Extravagant' love
A young stripper named Katherine had been one of the most skeptical ladies at the strip club when it came to Erin's visits.
Katherine told CBN News she was worried at first Erin would be judgmental.
"She's going to preach at me or hand me one of those tracts that says 'hell and damnation and this is how to go to heaven,' or 'Here's a Bible. Go pray' … something … and she didn't," Katherine recalled.
Then Erin showed up one evening with goodie bags filled with $3,750 worth of extravagant gifts donated by a Mary Kay representative.
"She gave me $150 worth of Mary Kay per girl," Erin said. "That's times 25."
At first Erin was going to break up the gift and spread the Mary Kay products across several visits. But then she again heard the voice of the Lord, talking about His gift of salvation to her.
"'I gave you an extravagant gift, Erin Stevens. Now you give an extravagant gift,'" she recalled God saying.
So Erin showed up with the gift bags—a visit that really rocked Katherine's world.
"One day she brought Mary Kay packages," Katherine recalled that evening. "And I love Mary Kay. I've always used it."
Valuable to God
Erin recalled Katherine approaching her at the strip club.
"She had tears in her eyes and she said, 'What you've given me, you'll never know how much it means. I've been a lifelong user of Mary Kay and I can't afford it anymore,'" Erin said.
Katherine remembered her puzzlement at receiving such a generous gift—with no strings attached.
"I went up to her and asked, 'Why? Why are you bringing us gifts? This is really extravagant," Katherine recalled. "Why are you showing us love without asking for anything or asking us to pay for something or at least preaching at us?'"
"'Because you are valuable to God, and you're valuable to me,'" was Erin's reply.
For the next three months, Katherine couldn't forget the encounter and the extravagant gifts.
She had been raised in a religious home, but she felt forced into stripping to make ends meet after her marriage broke up and she was left alone with two small children. She'd tried other work but faced destitution.
The stripping at the club, however, was something she could hardly stand.
"For the most part, the customers in there just made me want to crawl in my shell and hide," Katherine said.
The situation was driving her into alcoholism.
"I was drinking a lot. And to go to work I had to drink," she recalled.
Hundred percent forgivable
She said was haunted by Erin's words to her: "God loves you as you are, where you are. And no matter what you've done, who you've done it with, and how many times you've done it, He still sees you as completely, 100 percent forgivable."
And Katherine began to believe what Erin had told her about Todd and Erin's church, which meets in a school in the leafy lake country east of Nashville.
"She said, 'No, no one will judge you. There are tons of people there who've had tattoos,'" the much-tattooed Katherine recalled. "'There are other ex-dancers there. There are people who've done porn. There are people who've been porn addicts.' And she said, 'You won't even stand out.'"
Katherine finally told Erin she might come to church, but stalled for three weeks. Then she finally went one Sunday and ran right into Erin.
"Biggest hug ever welcoming me," Katherine said of Erin's greeting. "And she had a seat sitting next to her empty that she said she'd been saving three weeks in a row in case I came."
Friendship Community Church happened to be baptizing new believers that Sunday—people "with tattoos, with colored hair, every race," Katherine said.
"They're saying, 'I'm going to bring Jesus back into my life. I'm going to live my life for Jesus.' And I said, 'Why can't I?'" Katherine recalled.
Quitting the strip club
She immediately turned away from stripping and toward God that Sunday.
"Quitting the club was my first step," Katherine said. "And I took it that day."
Then Katherine talked with Erin on the phone.
"She said, 'Erin, I walked away. I quit my job.' Without another job lined up," Erin recalled. "She said, 'I'm trusting God to take care of me.'"
Erin said the next time Katherine returned to the church, "She accepted Jesus Christ as her Lord and Savior."
Erin immediately launched into action to help the newly unemployed mother of two.
"She referred me to a lady in the church who helped people for free find jobs," Katherine said. "She [the recruiter] had me instantly connected with probably 40 different opportunities."
Erin told CBN News, "A recruiter at our church has found her a job. She's going to graduate in January with a degree in criminal justice. She wants to be a cop."
Katherine's hoping her year stripping will just fade away and not hamper her career. Still, she had to fill that year-long time with something on her resume.
"I ended up putting that down on my resume as an 'entertainment entrepreneur,'" she said with a sly smile.
Now Katherine joins Erin on those every-other-Thursday visits to the strip club.
Glow of happiness
"Because now she's at a point where she's able to go back and minister," Pastor Todd said. "And she's got relationships there, so they've seen what's happened in her life. And they know how she hasn't been judged, and they know how her life has changed for the better."
Katherine said the strippers started taking what she had to say seriously right away.
"I think it was just the glow of happiness and getting rid of depression and alcoholism and inviting Jesus to control my life instead of me," Katherine said.
Erin said of Katherine, "So she's just like the woman at the well that left Jesus and went to town and said 'Come and see, come and see.' Now she's saying, 'Girls, look at me. Come and see this church I've found that loves you as you are.'"
Both the pastor's wife and ex-stripper hope for more salvations as they continue their work side-by-side, reaching out to these dancers in the darkest parts of Nashville.
Relational Evangelism
Erin has faced some criticism for hanging out with and making friends with these strippers. But Todd points to Jesus' own ministry.
"He was criticized for hanging out with sinners, having meals and things like that and not requiring them to change right away," Todd stated. "And so we point that out to people. We say, 'Guess what? The Pharisees didn't like when Jesus did that either.'"
"I call it relational evangelism," Erin said. "Because you know what? They're not going to listen to us till they know how much we love them."
Todd added, "Jesus said that we would be known as His followers by how we loved."
Erin said Christians need to start seeing everyone outside the church walls as worthy of love.
"The Muslim, the homosexual, the abortionist, the stripper, the pornographer, the addict—they're not our enemy; they're not the enemy of the church," she stated. "They're our mission field. They're who we're called to love and reach out to."