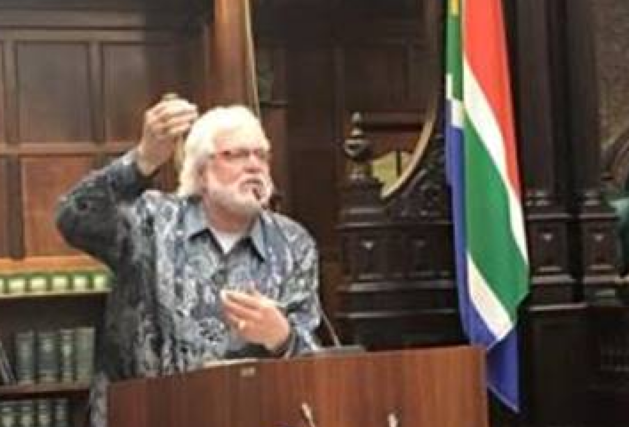 [notice]During a visit to South Africa in March 2016, US apostolic leader Chuck Pierce prophesied that God would redefine SA over a period of six weeks. In this Special Report, a Gateway News Correspondent, who does not want to be named, reports on the March 11 to 13 visit by the president of Glory of Zion International Ministries and Global Spheres and reflects on his prophetic word for SA.[/notice]
Apostle Chuck Pierce and his team which included Chad Foxworth, Anne Tate, Melinda Richardson, James Vincent and Allen Faubion, recently visited Cape Town where he ministered on Securing the Land: Revealing the Land. The Global Spheres Incorporated (GSI) meeting was hosted by Apostle Pearl Kupe and Dr Maxwell Holland. Apostle Emmanuel Kure, who is the GSI Ambassador for Africa also ministered over the weekend. Cape Town was chosen as it's the legislative capital of the nation.
Pierce believes that this is a time when God is speaking to nations – taking their past to bring it into the present so their future can be established. The trip started with a leadership meeting of about 100 attendees at the National Parliament in Cape Town, hosted by ACDP MP, Steve Swart and his wife Louise Swart.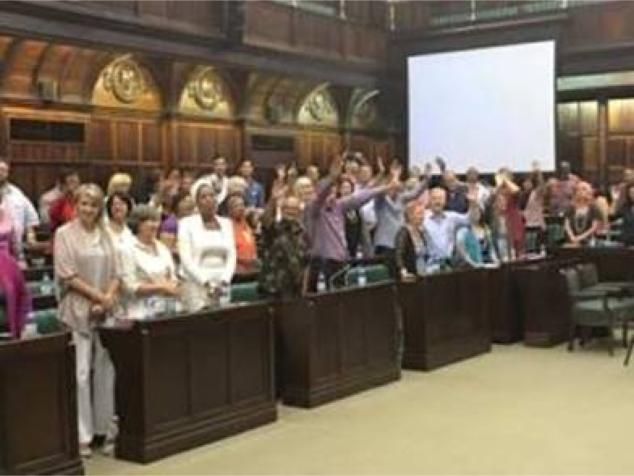 This is what Apostle Chuck Pierce posted on his facebook account after the national parliament meeting. "Our meeting this morning at the National Parliament in Cape Town was incredible, and was historic for the future of this nation. The Chief Justice and the Queen of Limpopo were in attendance, and I was privileged to share on this significance of this "vav" season. In a year of "the Word of God coming down like a hammer," we did a prophetic act by having the Chief Justice, the Queen of Limpopo, and a representative of the First People of this land (the Khoi), take a gavel and decree that God's Word will be set in motion in South Africa!"
Word for South Africa
Pierce spoke the following prophesy over South Africa as he concluded his ministration: "Over these next six weeks I will redefine this land. Even though the enemy will make a great attempt to rise up recreating structures from the past, angelic hosts are now on their way. Even though you see in the streets a lot of confusion I will even cause some to fall in the street representing the last season arising. It is now My desire for my glory to rise from the foot of this land of Africa and blow across the land and all nations will observe the workings of and going on of My hands in South Africa. I have chosen this land for now, I have chosen these people for now. This role is for now. There will be a divine reversal in Cape Town. There will be a divine reversal in Pretoria and there will be a divine reversal in Johannesburg. I say to you there is a movement now to realign this land. Watch as I begin to lead my people. Watch and listen carefully for my word will be heard throughout this land. That which is covered in this land and the past, it will be redefined within the next six weeks and a new covering will come to this land. I have put in motion a movement from heaven now, that movement will begin to be seen in the earth realm. I have sovereignly gathered you to a place where a wrong cycle began and now in this moment I will reverse that cycle, although you have never seen what My glory displays in this land I will begin to display my glory now in a big way. South Africa has been destined from decades and decades and decades. I have longed to see a movement from generation to generation to generation. A double fold move of my Spirit, and I say to you, now it is beginning! In the midst of this place we decree the new identity of South Africa will now arise. In Jesus Name!"
The six weeks
The six weeks that Pierce was speaking about started on March 11 and ended on April 22 2016 which was Passover. In this time frame many strategic reversals in terms of the destiny of South Africa took place.
Two are worth mentioning.
Firstly and immediately after this meeting (Tuesday March 15 2016), the South African government lost its bid to have the North Gauteng High Court ruling, that it should have arrested Sudanese President Omar al-Bashir when he was in the country, overturned. Bashir was in South Africa to attend the African Union (AU) Summit in June last year and the Southern Africa Litigation Centre (SALC) filed an urgent application for Bashir's arrest which ruled that he should be arrested. However, before the North Gauteng High Court gave its verdict Bashir was allowed to leave the country. Bashir is wanted by the International Criminal Court (ICC) for war crimes and crimes against humanity for atrocities committed in the Darfur conflict.
Secondly, the Constitutional Court ruled that President Jacob Zuma had failed to uphold, defend and respect the Constitution as the supreme law of the land with regards to the Nkandla matter. He was ordered to pay back the money. National Treasury was given 60 days to determine a reasonable amount for Zuma to pay back. President Zuma will then have 45 days to pay the final amount. Chief Justice Mogoeng Mogoeng issued the final orders in his conclusion of the judgment.
These strategic and historic rulings from the courts were signs of a divine reversal of the old structures and cycles and of a new era of the of establishment in our nation of a heavenly order of righteousness and justice which are the foundations of God's throne!
On Saturday morning, March 12, the team ministered at a business leaders breakfast in Newlands followed by a major gathering at the Bay Church in Muizenberg that evening to mobilise the Body of Christ in the nation. Apostle Chuck Pierce's reflection on the Saturday night meeting: "Saturday night was a night of two generations staking claim for their future in South Africa! Apostle Emmanuel Kure delivered a powerful on-time message!"
The meetings concluded with a Sunday morning meeting where Pierce ministered at a special gathering of more than 100 leaders of the First People/Foundation Nation (usually referred to as the Khoi) in the heart of Cape Town. The First People trace their bloodline back to Noah's son, Ham. Under apartheid, they were regarded as the lowest status.  Today, the Lord is reestablishing their role as Host People and their status as South Africa's 12th officially recognised tribe.
Pierce mentioned that the parliament meeting was historic however the meeting with the first people was mandatory.
He said: "This was a mandatory gathering. The Lord ordained with the Khoi people. The Khoi people are the first peoples of South Africa! Chuck was sent to mantle the Khoi people into their identity for the future. As the Khoi people take their place in the land, now South Africa can become who she is called to be for all of Africa! This was a monumental moment in time!"