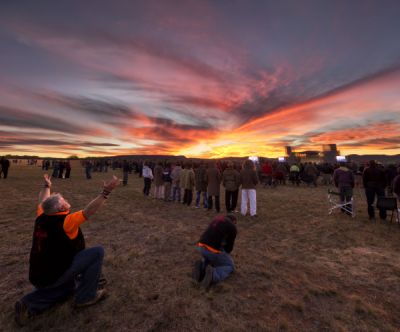 The dates have been set for the fifth Karoo Mighty Men Conference (KMMC), which will take place from  April 24 to 26, 2015 on the outskirts of Middelburg in the Eastern Cape on Rusoord Farm.
If past years are anything to go by the event will be marked by the glory of the Lord being revealed in spirit and in truth; from the beauty of His sunrises and sunsets to His hand in saving souls and restoring relationships.
For those who have not attended a KMMC, the seemingly never-ending Karoo plains, framed by the majestic Sneeuberg mountains form an ideal venue for getting away from the maddening crowds to worship God and experiencing His glory in freedom and in silence.
It is a setting that humbles you with a peace that is witness to the Lord of lords and King of kings.
KMMC organisers believe people attending the conference will experience the presence of God and His greatness in the vast calm and quiet of the Karoo farm at the foot of Rhenosterberg.
The work of God was evident indeed at last year's KMMC. Worship leader Retief Burger said: "We had God-encountering moments and many radical conversions".
Pastor Eldin Rudolph from the Celebration Centre in Port Alfred said one of the biggest blessings for him was seeing the sunsets and beauty of the Karoo, as well as being able to sit out under the night stars praising God and seeing grown men's lives change as they received Jesus Christ as their saviour, dismissing bitterness and resentment from their lives.
"We had wonderful opportunities for fellowship. We sat around the fire with neighbouring campers singing songs accompanied by men playing guitars until two-o'-clock in the morning.
Seeking God's face
"It was also heartening, as one walked through the campsite, to experience and see the commitment of people praying in groups and sincerely seeking God's face ," says Rudolph.
Pastor Stef Davi, of the Full Gospel Church in East London said for him the most enjoyable aspect of KMMC was the fellowship and the way the Spirit of God brought him fresh revelations of old teachings through people at the conference.
"Preparing meals and eating together, and chatting together provided a rich time of connecting – a time that we wouldn't normally have at church – especially since we arrived a day early, on the Thursday, which allowed us to have a relaxed time enjoying each other's company.
"Our group really was blessed by KMMC 2014," said Davi. 
Jannie Moolman, KMMC co-ordinator, says relationships are at the heart of the event, which allows for an enriching time with the Lord and fellow conference goers in a genuine time of fellowship.
Relationships
"Men are encouraged to focus on their relationships, starting with their relationship with the Lord God Almighty and extending to families, neighbours and friends … even the people they have conflict with, for it is a time of forgiving, letting go of resentment, being healed and renewed in body, mind and spirit.
"It is a time of making new friends, sharing testimonies, encouragement, prayers, and receiving teaching, guidance and counselling," says Moolman.
Johnny Louw who spoke at last year's KMMC and who addresses church congregations, children's events, and men's interdenominational groups all around the country, says the KMMC has a very special anointing for empowering men to face the world as sons of God.
"The voice that comes out of the KMMC is the voice of faith, hope and love. The KMMC is a place for me to revitalise myself, serve my brothers, and enjoy the fellowship of men that have driven from as far afield as Namibia, Namaqualand, Limpopo, Gauteng and the Cape to worship God and fellowship together.
"It is an event that happens once a year during which guys get together and forget about everything else except worshipping the Lord with all of their hearts."
The KMMC organisers invite South Africa's men to "Draw near to God" and spend time in His presence learning of Him and waiting on Him in the stillness of the Karoo.
"We hope to lead people into a closer relationship with the Lord, which will impact on the quality of all their other relationships," says Moolman.
For more information visit the KMMC website at www.karoommc.co.za or Facebook page at Karoommc, or contact Ruthi at info@karoommc.co.za or cell no 079 947 3566.