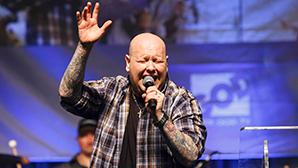 GOD TV broadcasting meetings from next week
The Healing Awakening meetings with Canadian evangelist Todd Bentley that began in Tongaat, KwaZulu-Natal in early April will start up in Cape Town tomorrow evening (Wednesday, June 5), GOD TV Global Communications Officer, Al Gibson confirmed today.
He said GOD TV will not immediately start broadcasting the meetings in Cape Town but will follow its usual practice of allowing some time for the event to get going before coming in with its cameras. According to a GOD TV media release, the network plans to televise the Cape Town meetings from next week.
GOD TV has provided extensive live coverage of Healing Revival services at Tongaat from April 12 and in Pretoria from mid May until May 26. The high cost of broadcasting the meetings live to a global audience are presumably a factor in GOD TV's decision to put an initial hold on screening from Cape Town. The network says it has been showing what has been happening in South Africa to a potential global audience of 860 million.
Bentley, who took some time out in Egypt last week will be leading the Healing Awakening meetings at the Lofdal World Prayer Centre, Bella Vista Road (off Old Paarl Road), Kraaifontein, Cape Town, nightly at 7pm, from tomorrow (Wednesday, June 5).  From next week the meetings will be held from Tuesday to Sunday. According to a publicity poster on Bentley's Facebook page, the Cape Town meetings will continue until Sunday, June 16.
"God wants to release an impartation of His anointing on your Life," says Bentley, in a post on the GOD TV website, announcing the move to Cape Town and encouraging people to attend the services.
GOD TV reports that "in 49 days of Revival, 11 000 decisions have been made for Christ as the world sees a demonstration of God's presence, power and authority".
"The network has received thousands of prayer requests as well as e-mails sharing how people have been supernaturally healed. Churches have set up large screens to televise the broadcasts and over 1 700 homes have registered to share the Awakening in home groups," says GOD TV in a media release. It says many of the healings were medically verified.
The Healing Awakening is being co-hosted by Fresh Fire USA and GOD TV, including the network's co-founder Rory Alec; Jonathan Hulton, and many of GOD TV's regional directors, including Marcel Oliver, regional director for Africa.