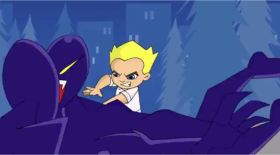 Wanderlust Productions who have made a unique mark with their feature film-length documentaries 'Finger of God','Furious Love' and 'Father of Lights' have released their first cartoon, 'Anointed Fighters'.
Company founder and film director Darren Wilson says that their documentaries have "helped shape a generation of believers to know the loving presence of their heavenly Father".
"But now, Wanderlust is taking a step in another direction, and this time, we want to help change and shape the next generation of believers. To that end, we are releasing our first cartoon, Anointed Fighters," he says in a promotional email.
" Our children are caught in a war for their minds and souls, and our desire is to provide them with the ability to know the truth which will always set them free," he says.
The official description of the movie plot reads: Anointed Fighters is about a young boy, Tommy, who is being bullied at school. When a prayer from his grandmother results in his eyes being opened to the spiritual realm, Tommy learns that the boys tormenting him are not his enemy—the truth is that "we wrestle not against flesh and blood". Touching on the nature of love, grace, and forgiveness, this pilot episode of a new cartoon series will help a child you care about understand more clearly the reality of spiritual warfare. Plus, it's a lot of fun!
The 22 minute cartoon can be purchased online as a DVD or a direct download.