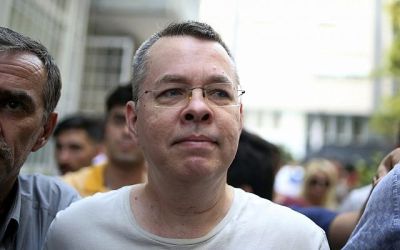 Originally published in Premier Christian News
A Turkish court has rejected the release appeal made by the lawyer of a US pastor who is central to the diplomatic row between the US and Turkey.
The court ruled that Pastor Andrew Brunson – who faces 35 years in prison for terror-related charges, will remain under house-arrest.
The North Carolina evangelist was transferred from jail to home detention for health reasons.
Mr Brunson has received support from the White House who has imposed sanctions on two Turkish officials over his continued detention.
Press secretary Sarah Huckabee Sanders told reporters on Wednesday that Mr Brunson is "a very good person and a strong Christian who's done nothing wrong".
She added that Turkey has treated him "very unfairly, very badly".
Meanwhile, on the same day that Turkey rejected the appeal, it received international support from Qatar after the Arabic country pledged to invest $15 billion into the country.
Although the amount is a small fraction of what Turkey would need to fix its economy or pay its debts, Turkish media reported the investment as a victory for President Recep Tayyip Erdogan.
Turkey announced on Wednesday that it was increasing tariffs on imports of some US products, escalating a feud with America which has helped trigger a currency crisis.
The Turkish government said it will impose extra tariffs on imports of products including rice, vehicles, alcohol, coal and cosmetics. Tariffs on American cars were doubled to 120 per cent, while tariffs on alcoholic drinks soared to 140 per cent.
Turkish vice president Fuat Oktay said on Twitter that the tariffs on certain products were increased "within the framework of the principle of reciprocity in retaliation for the deliberate economic attacks by the United States".
The tariffs come a day after President Recep Tayyip Erdogan said Turkey would boycott US electronic goods, singling out iPhones.
The Turkish lira has dropped to record lows in recent weeks, having fallen some 42 per cent so far this year.