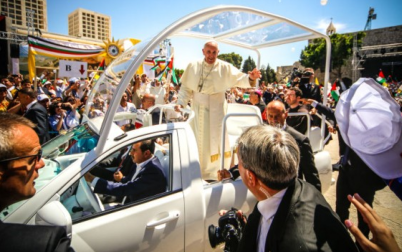 Originally published in Times of Israel
Despite warnings that the pope may be targeted by Islamic State-aligned terrorists, the Vatican has said that Francis will not be changing his plans to visit Albania, which has a majority Sunni Muslim population.
"There is no reason to change the pope's itinerary," Vatican spokesman Rev. Federico Lombardi said. "We are obviously paying attention but there is no need for concern or a change to his program in Albania."
Pope Francis greets crowds from an open-top convertible — unlike the previous two popes, who traveled in bulletproof glass vehicles, a security procedure in place since an assassination attempt on Pope John Paul II in 1981.
Fears that jihadists may attempt to assassinate the pope have been on the rise as more European citizens, including Italians, have been reported to join IS in Iraq and Syria.
Some also fear that Francis may have agitated the jihadi group by responding to a question about US airstrikes against IS with an answer that could be perceived as tacit support for Washington.
"In these cases where there is an unjust aggression, I can only say this: It is licit to stop the unjust aggressor?" he said, according to a transcript by America Magazine. "I underline the verb: stop. I do not say bomb, make war, I say stop by some means. With what means can they be stopped? These have to be evaluated. To stop the unjust aggressor is licit."
The situation came to a head Tuesday when Iraq's ambassador to the Holy See, Habeeb al-Sadr, a Shiite Muslim who has served in the post since 2010, warned that there are credible threats against the pope.
"What has been declared by the self-declared Islamic State is clear – they want to kill the pope. The threats against the pope are credible," the ambassador told Italian daily La Nazione, according to a translation by UK news source The Telegraph.
"I believe they could try to kill him during one of his overseas trips or even in Rome. There are members of [IS] who are not Arabs but Canadian, American, French, British, also Italians… [IS] could engage any of these to commit a terrorist attack in Europe," al-Sadr said.
Rev. Thomas Rosica, a spokesman for the Vatican, said that al-Sadr was misquoted, but declined to give further details, according to The Washington Post.
Al-Sadr qualified "that he is not aware of specific facts or operational projects," according to the Daily Mail.
Iraq's Shiite-led government has been scrambling for much of the past three months to turn back a surge by the Sunni-affiliated IS that saw the jihadist organization capture huge swaths of Sunni-dominated northern and western Iraq, including its second-largest city, Mosul.
During this time, some of Iraq's Sunni population reportedly sided with the Islamic State due to divisive policies enacted by then prime minister Nouri al-Maliki, who was eventually forced to resign in August as the ruling Shiite party sought to form a more inclusive government.
Francis' upcoming visit to Albania has raised concerns about his safety because according to an Albanian census the majority of its citizens are Sunni Muslim. The Pew Research Religion & Public Life Center, however, has said that 65% of Albanian Muslims identify themselves as non-denominational Muslims.