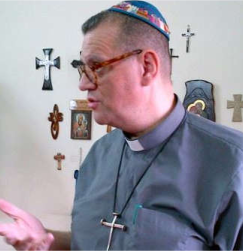 The venues and dates of Canon Andrew White's vist to South Africa in May have been finalised (see details below), says INcontext Ministries, who are hosting the visit by the Chaplain of St George's Anglican Church in Baghdad, Iraq who is also known as the Vicar of Baghdhad.
White will update South Africans about the situation in Iraq where Christians and other minorities are suffering greatly under ISIS excesses, and will also raise funds for Middle East emergency relief ministries with which he is involved, says INcontext Ministies. His SA trip is short because of his health: he suffers from multiple sclerosis.
Christianity is in decline all over the Middle East as a result of Islamist terror. Just 5% of the region's population identifies themselves as Christian, and that figure continues to drop.
When ISIS militants took over Mosul in northern Iraq in June 2014, the Christian residents who chose to stay came under blatant attack, with the Islamic State distributing flyers that gave them three options: convert to Islam, pay a fine or 'protection tax', or be killed. Many of their abandoned homes are now marked in black lettering, declaring them to be "Property of the Islamic State".
White estimates that his congregation used to number around 6000 people, but in the last decade, over 1 200 have been killed. "One of things that really hurt was when one of the Christians came and said, 'For the first time in 1 600 years, we had no church service in Nineveh,'" he told Arwa Damon from CNN.
White's itinerary is:
Saturday, May 9, Johannesburg — Rosebank Union Church
(Cnr William Nichol and St Andrews, Hurlingham — Sandton)
Contact Person: Andrew – andrew@incontextministries.org – 079 889 0075
Sunday, May 10 — 08h00 and 10h00 – Johannesburg — Rosebank Union Church
(Cnr William Nichol and St Andrews, Hurlingham — Sandton)
Contact Person: Andrew – andrew@incontextministries.org – 079 889 0075
Monday, May 11 — 19h00 — Durban – St Agnes Anglican Church
(53 Abelia Road, Kloof)
Tuesday, May 12, — 19h00 — Port Elizabeth — PE-Hoogland (NG Kerk)
(1 Isobel Avenue, Charlo)
Contact Person: Hanlie – hanlie@incontextministries.org – 071 673 5973
Wednesday, May 13 — 19h00 — Cape Town — NG Kerk Durbanville-Bergsig
(Cnr of Boland and Protea Roads, Durbanville)
Contact Person: Eric – eric@incontextministries.org – 082 319 5153