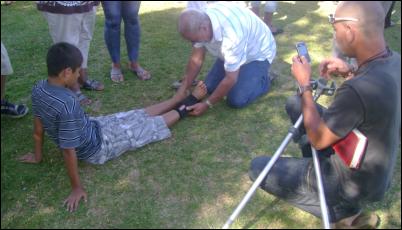 [notice]Paul Clough, a JOT teacher and coordinator of the Port Elizabeth school prayer movement, reports on a memorable prayer walk at Verkenner Primary School.[/notice]
Visions, a healing, and heartfelt prayer and worship were all part of the first Port Elizabeth school prayer walk of the year at Verkenner Primary School, Linton Grange, on Friday, February 15.
Learners, parents and teachers from five schools (Verkenner, St Josephs, Walmer West, Newton Primary and Blessing Academy) and city intercessors participated in the latest event in a growing schools prayer movement that began in June last year. Several learners who were touched by God at the prayer walk will testify live on PEFM 87.6 on Friday, March 1, from 15h30 to 17h00.
Blessing Academy started the proceedings by leading the group of about 150 prayer warriors in worship. From there, the march around the Verkenner sports fields began. Items prayed for were: Verkenner Primary, PE schools, teachers, the Department of Education, the youth and families. Half way through the walk the prayers took time to be still and to hear from God.
'Spanner and screw'
A grade 6 learner at Verkenner, was given a vision of a spanner and a screw. God told this learner that "He is busy fixing Port Elizabeth."
This vision was a reminder to me that we are God's hands and feet here on earth. Who is going to be bold enough to step forward and become a "spanner" in the hands of God? God wants to use YOU to fix that which is broken!
An intercessor who prayers regularly at various PE schools, was taken to the book of Amos where an introduction reads: "Famine, drought, plagues, death, destruction- nothing can force the people to their knees…..Amos…lashes out at sin unflinchingly, trying to visualise the nearness of God's judgment and mobilise the nation to repentance. The nation, like a basket of rotting fruit, stands ripe for judgment because of its hypocrisy and spiritual indifference."
She continued to read from chapter 1 as the Blessing Academy learners were led by God to sing "Healing rain is falling down….let it rain." As everyone sang the intercessor read from Amos 4: 7-8 "I also withheld rain from you, when there were still 3 months to the harvest. I made it rain on one city; I withheld rain from another city. One part was rained upon and where it did not rain the part withered. So 2 or 3 cities wandered to another city to drink water, but they were not satisfied; yet you have not returned to Me, says the Lord."
This precious woman of God continued: "I pray that the Spirit of God will rain on schools in Port Elizabeth and "two or three cities" (schools) will wander to Port Elizabeth schools to drink water and they WILL be satisfied!!!
'Giant spoon'
Another faithful intercessor was given the vision of a giant spoon. Immediately the interpretation of this vision was explained by a local pastor. She explained that the spoon was a medicine spoon and that God was feeding medicine to a sick, heartbroken Port Elizabeth, thus bringing about healing in all sectors of its body. God does not want to see a sick Port Elizabeth, but will nurture our city back to good health. Port Elizabeth is on the mend and will prosper.
Everyone joined hands at this point and raised their voices in song. Healing rain is falling down, healing rain is falling down. Let it rain, let it rain. God promises that where there is unity, He will command His blessing. Hands were held, a song was sung with one voice, a common vision of a city serving the one true God was on our mind. "Yes, let it rain Oh Lord! There was such a strong presence of God on the field at this point, some students fell to their knees, some were weeping, others just hugged each other…. God was speaking to us, working with us. God's love encircled us, He embraced us.
God had spoken to me prior to the walk and had promised to build on what happened on these self same fields last year, where children prophesied over their schools, and He was true to His word.
At the end of the walk, Blessing Academy led us in worship and there was once again such a powerful presence of God as they sang. I got goose bumps on my goose bumps. We where so blessed to have some local church leaders with us. One of these men of God led us in a prayer of repentance and also prayed for those that needed healing in their bodies.
Healing power
And indeed there was a demonstration of God's healing power in he life of a Grade 6 Verkenner learner who damaged his foot while playing rugby. A doctor who treated the boy put a brace around his ankle and gave him crutches to get around on. The young learner was adamant that he wanted to obey God and participate in the prayer walk, despite his crutches and the considerable pain he was experiencing. At the end of the prayer walk a pastor felt led to pray for the boy's foot. After receiving a short prayer, the boy felt the pain leaving his foot, got up, put pressure onto his "sore" foot and declared to his grandmother: "The pain is gone, I'm healed- it's not sore anymore!" He then picked up his crutches, placed them over his shoulder and walked out of the school grounds! God honored this young man's obedience and "healing rain" fell on him. What an awesome God we serve!
An altar to God was built on the Verkenner sports field this day and a sacrifice of prayer was offered up to God. God smelt the sweet aroma of our prayers, saw the desire of our hearts and met with us. There was a shift in the atmosphere that day and Heaven came down to earth. "Thy Kingdom come, on earth as it is in Heaven…" We felt it, we experienced it and many were changed by it. I pray that the day will come where every school in Port Elizabeth is an altar- a place where the natural and the supernatural meet- Amen!
To date, 21 schools are participating in the PE school prayer movement. Should you want your school to be a part of this move of God, then contact Paul Clough on 073 478 9281- God bless you.