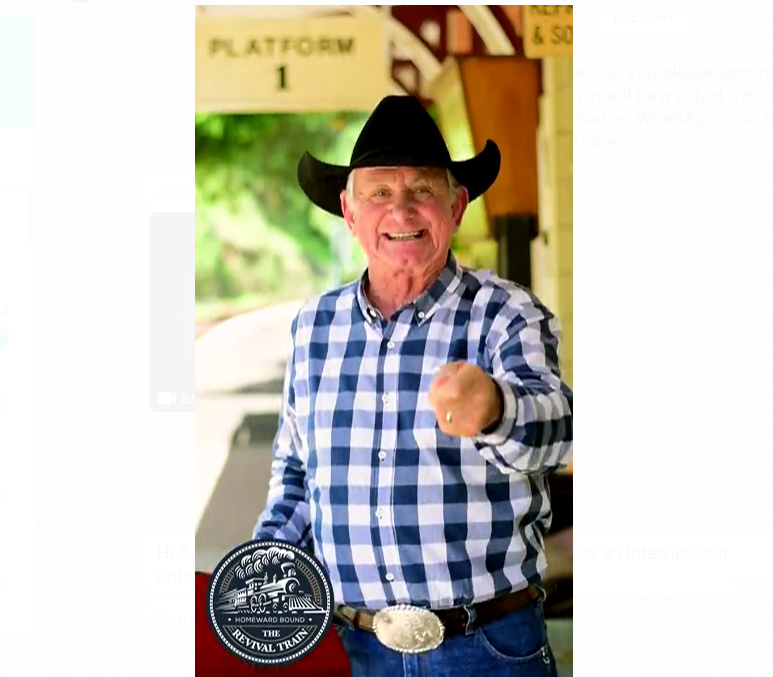 Originally published in The Guardian
Farmer-evangelist Angus Buchan has released a video with important updates on the Revival Train.
Previously he shared that at the end of 2019 God urged him to go to the people rather than calling them to gatherings — so birthing the vision of the Revival Train — a steam train — that would travel from Cape Town to Mussina — stopping for Gospel outreaches along the way.
And everybody was invited to come aboard for the journey.
In a new video [see at bottom of page] Uncle Angus announced that the Revival Train will be starting out on the second of April which is Good Friday.
But he said it will be a virtual train!
He said he has been advised by a number of people that for various practical reasons — including ongoing Covid-19 restrictions — it would not be feasible to embark on a physical steam train mission this year
But he urged believers in South Africa, Afric and around the world to be part of the Revival Train journey from Good Friday
Worship music, live testimonies, prayer requests, Bible messages and more will be part of the journey — and the Revival Train will keep on travelling as long as God wants it to, he said.
Buchan urged people to tell others about the train — and to pray for it to be part of ushering in the biggest revival the world has ever seen.
Subscribe to our weekly newsletter to stay up to date with God stories of Africa and beyond