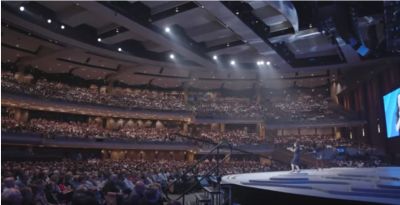 South Africans will have an opportunity to be among some 445 000 people around the world who will experience the annual Global Leadership Summit this year.
The inspiring two-day leadership training event will be hosted in 18 cities and towns in SA in October and November. You can get a taste of what's to come by viewing the video clip below of highlights from the GLS 2018 launch at the Willow Creek Campus in Chicago USA on August 9 and 10.
Two South Africans who attended the US launch had this to say: "Right now in the context we find ourselves in [in SA] leadership is absolutely critical. And so, despite everything that has been going on, the issues we are facing, there is no better time to press into leadership — and I know for a fact that the GLS is one of the places and tools that can be used to heal the wounds, bring about transformation, bring God's love and mercy and God's grace." — Bishop Gary Rivas, Methodist Church of SA.
"For me, it's the best GLS I have ever attended. I just want to say — make your calendar clear, come, attend, and God will speak to you. We can change South Africa with the Word of God." — Pastor George Jansen."
About 10 000 people attended the summit at Willow Creek despite resignations of church leaders on the eve of the event in the fallout around a still-unfolding sexual harassment scandal surrounding Willow Creek and GLS founder Bill Hybels.
Craig Groeschel, senior pastor at Life Church, which meets across the country and online, opened the summit, saying his own reactions to the scandal have run the gamut, from grief to disbelief to anger to "deep compassion" for everyone involved. He decided to speak at the summit, though, for the same reason many decided to attend: "It's because we know and believe we can make a difference. We must make a difference."
As usual, the lineup of speakers includes influential and innovative business, culture and ministry leaders from around the world, to bring the best practices in leadership, integrating Christian values and principle-based decision making through big screen presentations.
The 2018 faculty includes Angela Ahrendts, senior vice president of retail at Apple; Strive Masiwa, Zimbabwean telecommunications group head based in London and one of the "world's 50 greatest leaders" according to Fortune magazine; Danny Meyera, a New York restaurateur named to Time Magazine's 2015 edition of 100 Most Influential People; Rasmus Ankersen, a best-selling author and entrepreneur; Dr Nthabiseng Legoete, a Johannesburg medical practitioner, founder and CEO of Quali Health and social entrepreneur who is motivated by her faith and family story to make quality primary healthcare affordable to the world; and some big-name leaders like TD Jakes and John C Maxwell. The full list of speakers can be viewed here: https://willowcreeksa.co.za/gls2018/
You can register now at this link: https://www.willowsaonline.co.za/
GLS 2018 Dates & Venues
5 – 6 October 2018
Johannesburg – Mosaïek Teatro
East London – Christian Centre
12 – 13 October 2018
Durban Amanzimtoti – Sweetwaters Church
Vanderbijlpark – River of Life Family Church
Somerset West – New Generation Church
Richards Bay – Outlook Church
19 – 20 October 2018
Cape Town – Baxter Theatre – DATE & VENUE CHANGED!
Durban Kloof – Kloof Harvest Church
Durban Ballito – Linc Church
Port Elizabeth – Harvest Christian Church
Rustenburg – Agapé Gemeente
26 – 27 October 2018
Durban Westville – Westville Baptist Church
Bloemfontein – Doxa Deo
Knysna – Knysna Vineyard
Pietermaritzburg – All Saints United Church
Cape Town – AFM Friend of God
Klerksdorp – Oase Gemeente
27 October 2018
Kimberley – Taberna Dei Diamantstad
2 – 3 November 2018
Witbank – New Life Church
Graaff-Reinet – The Botanics
9 – 10 November 2018
Pretoria – Hatfield Christian Church