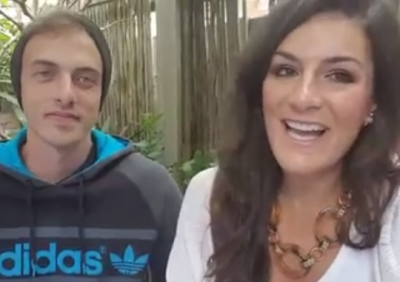 Watch the video clip below in which South African revivalist Lindy Ann Hopley chats with Brandon Van Der Bank and his mother, Amanda Van Der Bank, in Cape Town this week about his recent life-changing encounter with Jesus in a dream and about her own part in this remarkable God adventure.
Lindy Ann posted the clip on her Facebook page yesterday together with the following explanation in her own words:
"This is an incredible testimony of God's faithfulness, His mercy, kindness and love. Amanda Van Der Bank came to the front of a meeting where I preached a month and a half ago in George [during the Beautiful Witness East Coast Tour in October, 2015] with her phone in hand. She showed me a picture of Brandon van der Bank, her son, and asked me to pray for him — he was caught up in marijuana.
"I prayed and asked God to reveal Himself in a dream.
"The next day she messaged to say – he had a dream about Jesus!!!
"Today I got to meet up with them to hear what God has done since and hear him share the dream himself!
"The dream : he was in the back garden at his home… a man approached him and told him to remove the green bush. It was difficult [to remove] but came out. He was concerned about the hole now left in the ground and asked the man about it. The man gave him a fully grown palm tree to plant in its place. When he woke up he told his mom the dream. And that day he stopped doing drugs.
"[The video clip sound is in] Afrikaans at first then [there is] some English.
He [Brandon] has been clean since!!!
‪#‎beautifulwitness‬ ‪#‎hallelujah‬ ‪#‎JesusIsLord
If you do not see the video on the page please click on this link: https://www.facebook.com/video.php?v=10153070023955356