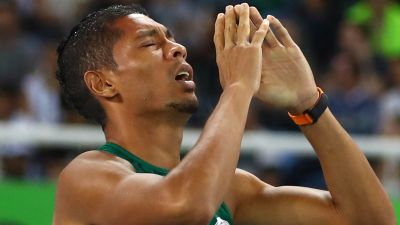 "The only thing I can do now is to give God praise," said Wayde van Niekerk moments after winning a gold medal at the Rio Olympics and breaking Michael Johnson's 17-year-old 400m record in a time of 43.03 seconds.
"I went on my knees each and every day and I told the Lord to take care of me every step of the way — I even wrote it down on my spikes," said the 24-year-old South African in a track-side television interview with BBC Sport in which he held up his running shoes to show the words "Jesus I am all yours, use me".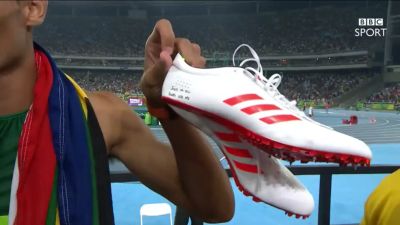 "I asked the Lord to carry me through the race and I'm really, really blessed and grateful for this opportunity," said the former Grey College student who commentators  — including Michael Johnson — immediately began speculating could become the next big athletics star when Jamaican speedster Usain Bolt retires.
Bolt, who is also a vocal Jesus-follower, congratulated Van Niekerk on the side of the track and 20 minutes later went on to make history as he won his third, successive 100m Olympic title. The two will not compete at Rio as Van Niekerk, despite being the South African champion at 200m, elected not to enter that race in his first Olympics.
At the start of the 400m, most eyes were on American Lashawn Merritt and the defending Olympic champion Kirani James whose performances in the heats outshone Van Niekerk's. But he streaked ahead of the field and James took the silver medal with a season's best 43.76 seconds while Merritt hung onto third at 43.85seconds.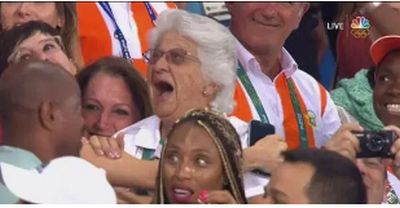 Van Niekerk's highly respected 74-year-old coach, Ans Botha, also attracted media attention at the stadium with her exuberant reaction to his victory. Botha, who has been coaching athletics since 1960 has been working with Van Niekerk for three years.
Van Niekerk, who was the flag bearer for South Africa at the Games' opening ceremony, has flown 10 members of his family to Rio to watch him compete, including his girlfriend Chesney Campbell, 24, his grandparents and parents, Odessa and Wayne.