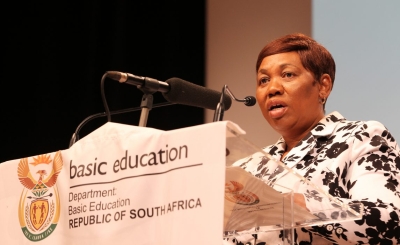 Christian leaders in the Western Cape have written to Minister of Basic Education Angie Motshekga slamming the proposed introduction of Comprehensive Sexuality Education (CSE) and calling for the firing of her spokesperson Elijah Mhlanga.
In a letter headed "Standing against the CSE (Comprehensive Sex Education"), Concerned Clergy Western Cape, say that speaking on behalf of all parents they wish to bring to her attention their disapproval of  CSE being brought into the academic arena.
"We also strongly reject the recommendation of your spokesperson Mr. Elijah Mhlangu from your department of Basic Education in relation to his posting of 'Soft Porn' images on social media to promote and help learners with their reading. How educated do you have to be to make such a recommendation," says the letter signed by CCWC executive chairman Rev Dr Barry Isaacs and nine colleagues.
Distancing herself from Mhlanga's recent controversial campaign did not "show a will for a better South Africa", therefore they called for the immediate termination of his services, says the letter.
Criticising CSE, the church leaders say it will not solve "the dilemma facing our young learners" but will "open a door to pain, heartache and suffering" and would prepare young and innocent children for sexual activity when they were not prepared for it.
The letter continues: "It is also another way of making our young girls more vulnerable to those depraved, evil predators out there, and they come in various forms, fellow male learners, educators and those sugar daddies sitting like vultures waiting for innocent prey. Many parents are concerned that the recommendations by Mr. Mhlangu will expose children to explicit material, including descriptions of sexual behaviours, which could sexualize them at an early age thus many parents are in objection to the fact that confused messages may be given to their children at a vulnerable age.
"Christian parents and parents of other faiths may also object to materials and messages that contradict deeply held religious beliefs about marriage, sexuality and the binary nature of biological sex.
"This fallacy of thinking that we will have a better South Africa, by taking away Parental rights and doing things without the consent of Parents is only taking South Africa over the 'Cliff' and the rest of us will be running an Ambulance service at the bottom picking up the pieces."
Rev Isaacs said the Department of Basic Education has confirmed that they have received the letter which was sent to them on August 23.