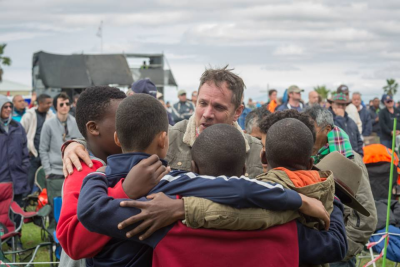 By Piperjames — Chariman of MMC WC 2016
Photos on page by Petrus Theron
The Mighty Men Conference Western Cape started with a bang 'literally' as a young lady was involved in a head-on collision on the N7 right outside the main gates of Moreson Farm (the Mighty Men venue) at around 6pm on Friday, September 25,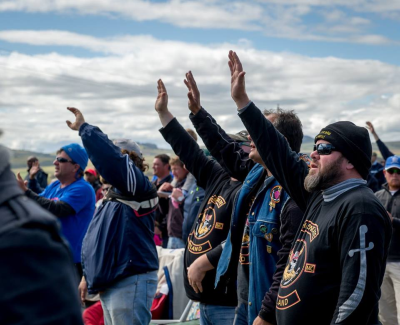 The lady in question, namely Karen Kriek of Malmesbury was not injured as much as the scene depicted she should have been. In fact to any onlooker one would have believed, like most that went to help, that no one could have survived. 
Mighty prayers
At the stage area Mighty Men in their scores all turned towards the scene of the crash after the speaker was informed. Holding out their hands towards the scene of the incident all in attendance prayed with all their might for the safety of the lady in question. 
Thank God that the driver is well and recovering with only minor cuts and bruising. Thank you Jesus for Karen's healing of Karen and for the many hundreds of vehicles that had to stop and take in the view of where the Mighty Men was being held, as the police sorted out the scene. 
"God is certainly in charge of the marketing for MMC WC 2016," says Ina.
Meanwhile Chathal Whites from the MMC.WC Ministry team visited Karen today (Thursday, October 1, 2015) at her home and confirmed that all is well with her.
Musical tribute
The Friday evening MMC session continued and was opened with a tribute to the late South African singing legend Crocodile Harris, whose wife Nora was invited to sit among the men as the men honoured 'Croc' as he was known to all. A break from tradition with a lady amongst the lads. The beautiful ballard 'Give me the Good News' was played and Nora received a standing ovation. Croc was to have performed live, opening the weekend, but for his untimely death.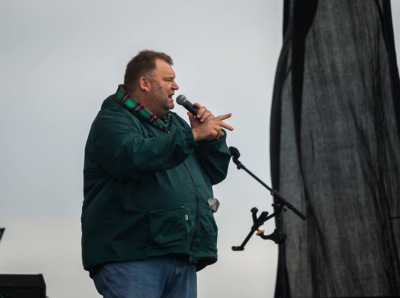 After this Johan Verceuil the big Mighty Men himself (giant of a fella) stood before the men and serenaded them with his unique deep and rasping voice and before Dewald Gouws and his band took up praise and worship. Dewald being the chosen voice for the Western Cape Mighty Men — so powerful a message he brings with his words and music too.
Dr Hennie Lubbe was MC for the evening (Freshwind Ministries) and he did a sterling job throughout, starting with introducing his friend in the ministry arena and opening speaker Professor Gerard Kotze from Amazing Grace Ministries.
Poignant testimony
Poignant words of encouragement and testimony from Gerard sent all the men back into the camp with great joy and many amassed into the huge barn where many vendors were awaiting them with all kinds of wares, displays and delicious food/s included.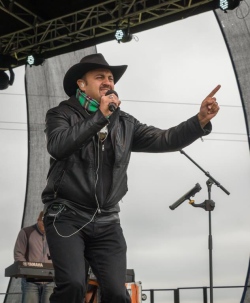 Saturday morning at 06:00 AM was brought to life with the sound of the shofar being blown by Mighty Man Charl MaCrae.
The morning service was brought to the men by Pastor George Lehman from the Bikers Church in Brackenfell. Prayers were said for rain too for the farmers but true to God being God, there was nothing but beautiful weather all weekend, a cold chill in some places, but bright and beautiful as a whole. (Rain did fall after the MMC!)
Saturday afternoon saw an inspiring film called 'Facing Dungeons' — a story about surfers overcoming all kinds of adversity including big waves in their chosen sport. 
Closely followed was a testimonies event where men were sat down and asked about their lives. Even the Bikers went on a coastal bike trip and back.
Inspiration aplenty
Strategically placed into the programme all these other events were therein so that the men had nothing but inspiration all weekend. Indeed for me to include everything that went on, would cover a small handbook in pages and text.
Saturday evening saw a new and unique event in the 'Rite of Passage' hosted by Father's Voice and Jacques Malan. An event with men and their sons attending on the stage and also standing together at the front of the stage. Fathers honouring their sons. Again another highly charged and emotional part of the weekend. Much healing came from this that is for sure.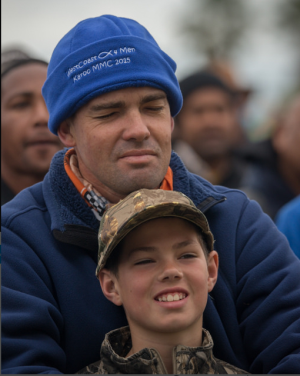 More singing and praise and worship after this and then into the main speaker of the weekend Zane Meas (7 De Laan). Simply inspiring to say the least and 'not above anyone else that spoke' but Zane brought a real flavour to the event based on and about fathers and sons too. He then surprised us all with his singing talent. Afterwards attending at the prayer area and meeting and greeting many men and laaties too. From there a film show was held called 'Daddy Come Home' by Zane and at least two to three hundred (200-300) men attended this at 11 pm at night in chilly conditions; amazing to see!
Shower of blessing
All to the camps and a half decent nights sleep after the film ended, many woke to hear the patter of rain on their tents. It was only a shower of blessing from God, for by 8am the sun was splitting the skies even though the weatherman said rain. Again thanks all to the Almighty for holding back the wind and the rain.
The families started to arrive as is custom at MMC gatherings on Sunday mornings. Pretty dresses adorned some of the ladies and joyful laughter from the children could be heard all over the camp. Proud men escorting their ladies to their seats.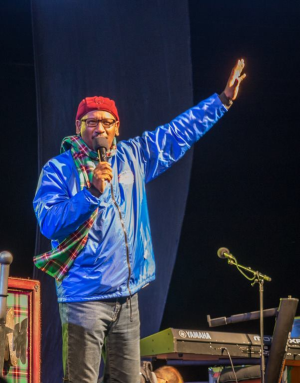 Singing and dancing from local artists as well as the 'all weekend' praise and worship members was done and seen, even members of the Exco with Guest speaker Graham Power, founder of Unashamedly Ethical, were seen dancing on stage as Johan sang out a love ballad for all the ladies present. 
Something quite different
Something quite different from the other Mighty Men with flowers presented to the ladies that have been behind the scenes with the Exco, to a cannon firing off shots to announce the arrival of the Word of God, to a beautifully hand-crafted altar which donned a beautifully chromed sword representative of the Spirit of God, the Word of God being present.
Gerhard Kotze brought the final words to help release the people into spiritual warfare; never forgetting 'as all the speakers did not forget to do', reminding the men of their rightful place in the home, local community and society. The basics of what Mighty Men is all about.
Many lives were saved and many were baptised this past weekend. Many more soldiers for the Army of Jesus Christ signed up. Support is what we are all about as well. We have been inundated with requests for prayer and support and the team are following up all the time, even making home visits.
Foundation laid
Again I could go on for ever and a day, but all in all it was highly charged and emotional, serious and joyful weekend all wrapped into one magnificent Mighty Men Conference. Unity was certainly got at MMC.WC and the foundation has at last been repaired since 2011 for Mighty Men in the Western Province to continue to build upon.
I apologise if I have missed anyone out in this text; you all did amazingly well. First and foremost for Jesus Christ and then your fellow Brothers and families, etc. You all know who you are and I personally and on behalf of the Executive Committee thank you all for your obedience and love for and to the Mighty Kingdom of the living 'I AM' God of Abraham, Isaac and Jacob and for the Love and respect and prayers for Israel and her nation too.
Pipey
Chairman MMC.WC
Quis Separabit.
Romans 8: V 35 
'Who shall separate us from the love of Christ? shall tribulation, or distress, or persecution, or famine, or nakedness, or peril, or sword?'
More photos: https://www.facebook.com/inamurison/media_set?set=a.10154406129499460&type=3&pnref=story,  https://www.facebook.com/inamurison/media_set?set=a.10154406320309460.1073741910.779424459&type=3&pnref=story, https://www.facebook.com/media/set/?set=a.1501909760124761.1073741829.1501380196844384&type=3&pnref=story.