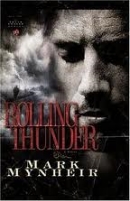 Book review by Angela Mould
ROLLING THUNDER by Mark Mynheir – Book 1 in The Truth Chaser Series.  Category: Christian Suspense Novel
Are you totally afraid of thunder and lightning? Does it leave you absolutely paralysed? Sometimes our fears are just irrational but sometimes they are because of childhood traumas that we want buried.
This book is a reminder that the past can predict how we react to situations in our present. Forgiveness is not easy and it seems so many people can forgive strangers easier than their own family members. Many people will identify themselves with some of the characters and emotions in this book. It has multiple stories from different people's perspectives. This book will be enjoyed by men and women alike. It is also a good read for teenagers.
John Russell is the Florida Department of Law Enforcement agent assigned to the missing Dylan Jacobs case. But while he's tracking down clues in his professional life, a murderer is hot on his trail—his own flesh and blood. John's father relentlessly seeks something John refuses to offer: forgiveness. Forced to face the source of his paralysing fear of thunder and his stolen childhood, can John find the missing boy without his personal life completely unraveling?
Ten-year-old Dylan Jacobs is missing from state care. John Russell is the team leader of the Florida Department of Law Enforcement task force trying to find him. Although the governor has declared this a top priority, all the team is turning up are corruption and crime of a different sort. Could Dylan still be alive after disappearing from the system six years ago?
Meanwhile, John's own long-buried nightmare is unearthed when a paroled killer shows up in his driveway. He struggles to leave old horrors where they belong—in the past. Determined to protect her children and help her husband, his wife, Marie, does some investigating of her own. Because she soon realizes, what you don't know can hurt you.
Mark Mynheir is currently a homicide detective whose law enforcement career has included positions as a narcotics agent and a SWAT team member. A former US marine, he authors several articles for Focus on the Family's Breakaway magazine for Christian teen boys. Mark and his family live in central Florida.