[notice]
This year marks the 60th anniversary of Brother Andrew's first encounter with persecuted Christians behind the Iron Curtain, and the beginning of Open Doors' ministry to the persecuted Church. Open Doors South Africa is  celebrating the past 60 years of  ministry with its Dangerous Faith 60 Tour.
More about the tour in this special preview: [/notice]
As a young, newly converted Christian, Andrew van der Bijl, a young Dutch missionary was invited to a Polish Youth Festival in 1955. Other than a change of clothes and linen, his bag was filled with Christian literature for believers in Warsaw. What he found behind the Iron Curtain was a Church in desperate need of support and Bibles. It was in this moment that God spoke to Brother Andrew through the words of Revelation 3:2, "Awake, strengthen what remains, which is at the point of death…"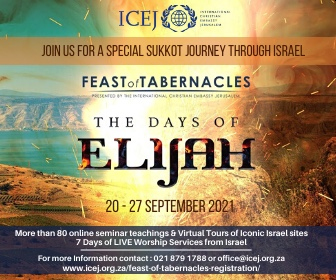 Click to register
"Something was born in my heart," says Brother Andrew, now a man in his late 80s. More trips followed in his famous little blue Volkswagen to nearly every country in the Communist Bloc. "Others joined me, the work grew, and people in other countries [joined] – South Africa was the first in 1970," Brother Andrew recalls. As the ministry grew, the work of Open Doors also changed. Says Brother Andrew, "As our ministry expanded, other needs emerged. For example, in some countries pastors have little or no seminary training. We provide them with training so they can be more effective leaders of their congregations. In other regions, Christians are discriminated against, denied education and quality job opportunities. So we may strengthen the Church by providing small loans to help Christians start businesses. The needs and thus strategies vary from country to country."
People of courage
God's Smuggler, Brother Andrew's biography, was published in 1967 and translated into at least 35 languages. Through Brother Andrew's leadership, Open Doors has gone, and still goes, where very few Western Christians dare to go. "I think we in the West, now this is a personal confession, I think we are cowards. We want a personal profit to come first and if that is at risk, we don't do anything. We ought to become people of guts, courage and strong convictions and don't count our lives dear unto ourselves, if only we can fulfil the high calling of God on our lives. That's what I'm after," says Brother Andrew.
And this year, Open Doors is celebrating 60 years of service to the persecuted Church and we are celebrating the stories of those who live and have lived the Christian faith, regardless of the danger it holds or the complexities of persecution they face as they follow Jesus. As part of our celebrations, Open Doors will be touring the country and hosting various regional gatherings to unite in praise and thanksgiving before the Lord, as well as to cry out in prayer on behalf of our persecuted family worldwide.
During the Dangerous Faith 60 Tour, audiences will hear from three international guest speakers. Ben and Didi Cleijn, who together have 37 years of experience in serving the persecuted Church and Ben, in particular, was extensively involved in Open Doors' Bible smuggling activities in Eastern Europe. We will also welcome Mouner Ajji, former senior pastor and founder of the Aleppo Baptist Church in Syria, where he served until last year amidst the ongoing civil war. Our international guest speakers are:
Ben Cleijn
In 1977, former Dutch policeman, Ben Cleijn, accepted God's call to keep a close watch on the needs of persecuted believers worldwide as they live a dangerous faith. During his service of more than 37 years to the persecuted Church, Ben and his wife, Didi, visited all the Communist countries in Eastern Europe and the Soviet Union. They have also travelled extensively in Central Asia, the Middle East and Africa.
Being closely involved with the smuggling of hundreds of thousands of Bibles and literature into Eastern Europe and Russia, Ben played a key role in recruiting, training and preparing everyone involved with these missionary activities, like creatively modifying delivery vehicles and objects, for example… Ben's passion to live a dangerous faith, and to help others do the same, is unabated and his stories will be a true encouragement and inspiration to Christians in South Africa.
Didi Cleijn
For the past 37 years, God has been using Didi Cleijn to not only fan into flame a lifestyle of worship amongst Christian musicians and artists in many countries, including closed countries, but also to awaken a love for the persecuted Church wherever she goes. Together with her husband, Ben Cleijn, this trained social worker and singer has travelled on behalf of Open Doors into many closed countries all over Eastern Europe, the former Soviet Union, the Middle East, Central Asia and North Africa.
In particular, Didi has a heart for the women of the persecuted Church. Her compassion and understanding of what they go through, was birthed out of her own fears during times when Ben was travelling to serve the underground Church in Eastern Europe. She knew that she could not count on him always being able to come home, and questions about how she would raise their children on her own haunted her. This experience helped her to truly see the wives and children of so many pastors and leaders in the persecuted Church, who literally give up everything in living a dangerous faith.
Mouner Ajji
As the former senior pastor (2002 to 2014) of Aleppo Baptist Church in Syria, a church he planted, Pastor Mouner Ajji knows first-hand what it means to live a dangerous faith. He has been confronted with fear, destruction, death, violence and persecution amidst the ongoing bloody and destructive war in Syria. A war which has, and continues to single out Christians and other religious minorities in the worst ways. But through it all, Pastor Ajji and his family remain committed to the call of God on their lives: to lead His people wherever He leads them – even as the current senior pastor of the Arabic Christian Church of Calgary in Canada. We believe that Pastor Ajji's testimony will strengthen us in South Africa to continue to live a dangerous faith, as well as to continue to strengthen our brothers and sisters on the frontlines of faith.
More info
More info about the Dangerous Faith 60 Tour events is available on the website: www.opendoors.org.za/eng/60tour or by sending an SMS with your name + 60tour to 44641 or by calling 011 888 9341.
The dates and venue cities are:
29 August 2015 – Durban; 2 September 2015 – Port Elizabeth; 5 September 2015 – Cape Town; 9 September 2015 – Bloemfontein; 9 September 2015 – Kempton Park; 11 September2015 – Centurion (women's event); 11September 2015 – Pretoria (youth event); 11 September 2015 – Midrand (youth event); 12 September 2015 – Parkhaven, Johannesburg.