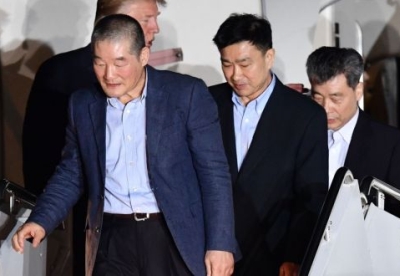 Despite the significant level of increase in Christian persecution around the world there is some good news to share say the authors of the Open Doors World Watch List 2019.
North Korea: Despite its ranking in the top slot as in every year since the World Watch List 2002, diplomatic meetings ahead of the Donald Trump – Kim Jong Un summit did free three Korean-American Christians from a North Korean prison.
Two of the freed Americans were lecturers at the Pyongyang University of Science and Technology (PUST), arrested in 2017, accused of "behaviour against the regime". PUST has now changed its recruiting policy. The third was a pastor, convicted as a "spy".
Pakistan: The Chief Justice of Pakistan, Mian Saqib Nisar— at risk of his own life — kept his promise to hear the Supreme Court appeal of Pakistani Christian Asia Bibi before he retires early in 2019.
He and his fellow two judges ruled to acquit her, saying her accuser had been lying, and the blasphemy charge, for which she had spent eight years on death row, was a fabrication.
However, their landmark ruling was challenged by days of mass protest and disruption across Pakistan by radical Islamic groups who called for the judges and Asia Bibi to be killed. While Asia Bibi is technically free, she is still in fear of her life, and unable to leave Pakistan for asylum in a country where she can live safely with her family.
Egypt:There are 3 700 churches waiting to be registered under a 2016 law. By the end of August 2018, 220, and by October, another 120 had been registered, making a total of 340, or 9%. However, at this rate, it will take 12 years to complete all registrations.