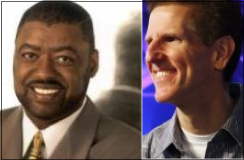 Internationally acclaimed praise and worship musicians Dr Ron Kenoly and Tom Brooks will team up with local talent at a live concert in Durban on Friday (April 19) and a praise and worship workshop on Saturday (April 20).
They will perform at Faith Revival Church in Phoenix, on Friday, at 7pm (gates open at 6pm), and at 9am at Grace Family Church, Umhlanga, they will conduct an interactive workshop  for musicians, praise and worship leaders, producers, songwriters, and those who are interested in arrangements. 
Orlando, Florida-based Kenoly has sold more 4 million albums, received 19 GMA Dove Award nominations, won 1 Dove Award, and is the founder of "Academy of Praise", a mentoring programme through which he has impacted gospel music in South Africa and other parts of the world. Brooks is an acclaimed producer, arranger, engineer, and keyboardist, whose more than 100 well-loved Christian Albums, include albums that have achieved Gold and Platinum status and Grammy and GMA Dove Award honors.
Booking for both events can be made online.
Kenoly and his team arrived in South Africa last week and have already performed and held workshops in Johannesburg. They will appear in Johannesburg again next week before returning to America. Latest news about his SA tour can be found on his facebook page.
Integrity Music and Don Moen released some of Kenoly's albums, namely; "Jesus is Alive" "Lift Him up" "God is Able" "Sing Out" "Welcome Home" "High Places" "Majesty" and "We offer Praises". 
Brooks's albums and live videos are distributed in 160 countries with over 60 million albums sold worldwide. He is the founder of "Worship Alliance", a group of Christian artists and musicians dedicated to bringing people into God's presence through music. He serves on the Worship team of Pastor Rick Warren, author of the best selling book, "Purpose Driven Life".
"These two icons are gonna blow minds away, performing together on stage with a 30 piece choir, live band. Its' going to be awesome! Hits like "Ancient of days" "He turned my mourning into dancing" and many other favorites will be heard at this concert. Don't miss the concert or the workshop. To avoid disappointment, book now," said Pastor Aaron Munsamy, President of  City Connect ministers' fraternals and forums,