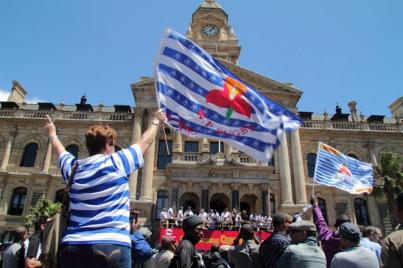 The coach and captain of the Absa Currie Cup-winning DHL Western Province squad who participated in a victory parade through Cape Town this week both gave glory to God in an interview with Radio Tygerberg.
WP coach, Allister Coetzee said Jesus Christ is the best coach of all and that His Word can always be relied on for direction and is always relevant. He said it was God's mercy and power that got the squad through a long season and enabled them to lift the cup "and we give glory to Him".
Coetzee said he was thrilled at the opportunity that the team had to warm the hearts of people in Cape Town during a victory parade on Tuesday in which they visited three parts of the city. Western Cape Premier Helen Zille and Cape Town City Mayor Patricia de Lille participated in the parade.
Injured Western Cape captain Jean de Villiers said God always has a bigger plan than people, even when they did not understand the circumstances in which they find themselves.
He said he hoped that the presence of the Currie Cup in the Cape will give hope to their supporters when they face situations which seem impossible. He said he always believed that WP could bring the cup home and that God must get all the glory for the achievement.
WP beat the Sharks 25-18 in a dramatic final in Kings Park in Durban on Saturday which gave them their first title in 11 years.