Business as mission seminars in May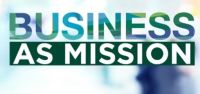 Christians working in the business sector are invited to attend one-day 'Business as Mission' seminars in Johannesburg, Cape Town and Port Elizabeth in May.
Two international speakers who work fulltime in the business mission field will share stories on how God is using business to impact nations and to extend His kingdom.
You can register for the seminars here: http://www.incontextinternational.org/business-as-mission-2017/. Registration costs R300 and closes on Monday.
"Whether you are the owner of a large or small business or are a business employee, you have the ability to greatly impact the mission field – we want to show you how," say INcontext Ministries who are hosting the seminars.
More information is available from Gustav Krös at gustav@incontextministries.org or 021 976 1465.
PLEASE SCROLL DOWN TO MAKE/VIEW COMMENTS
ADVERTISEMENTS:
---
COMMENTING GUIDELINES:
You are welcome to make comments that add value to the article above and to engage in thoughtful, constructive discussion with fellow readers. Comments that contain vulgar language will be removed. Hostile, demeaning, disrespectful, propagandistic comments may also be moved. This is a Christian website and if you wish to vent against Christian beliefs you have probably come to the wrong place and your comments may be removed. Ongoing debates and repetitiveness will not be tolerated.