Gateway News pair running Comrades and raising funds for orphan village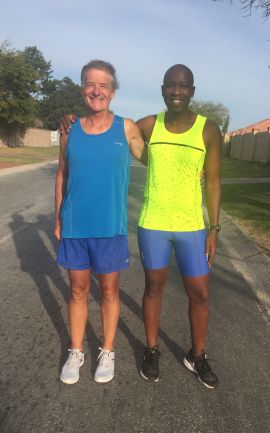 Gateway News board chairman Afrika Mhlophe and editor Andre Viljoen will be among the 20 000 athletes lining up outside the Durban City Hall well before the sun rises on Sunday June 4 at the start of the 2017 Comrades Marathon.
Both Afrika, 38 and Andre, 62 are relatively new to running and are looking forward to the great challenge of participating in the 88km up-run from Durban to Pietermaritzburg and are excited to be running for an awesome cause — to raise funds for LIV Village (See our story on LIV — Miracle orphan village with cross at centre carries hope for millions of children )
Please support this worthwhile cause
Together with their amazing seconds — their wives Lindiwe and Val — the Gateway News pair will be based at LIV Village during the Comrades and invite our readers to support their charity run by making donations directly to LIV, using one of the donation options on their website: https://www.liv-village.com/donate/. When you do send your donation to LIV please also send us an email ( to news@gatewaynews.co.za ) letting us know about your gift — we would love to track the campaign and to thank you personally for your support.
A bit of background about the runners: Afrika entered his first Comrades three years ago and began to experience muscle cramps after 39km. He soldiered on in pain for another 36km but had to pull out at the 75km mark. So why is he putting himself through this tough event again?
"Because it's one of those bucket list races that you have to take on as a runner," says Afrika. He also believes he is better prepared for the 2017 Comrades.
Andre starting "parkrunning" in 2014, caught the running bug, and realised that we are blessed in this country to host the world's oldest — and many say greatest — ultra marathon. And so he set his sights on taking on the 92nd Comrades Marathon in 2017.
Both athletes also invite you to pray for them as they put in several more weeks of training and during the daunting event itself!
PLEASE SCROLL DOWN TO MAKE/VIEW COMMENTS
ADVERTISEMENTS:
---
COMMENTING GUIDELINES:
You are welcome to make comments that add value to the article above and to engage in thoughtful, constructive discussion with fellow readers. Comments that contain vulgar language will be removed. Hostile, demeaning, disrespectful, propagandistic comments may also be moved. This is a Christian website and if you wish to vent against Christian beliefs you have probably come to the wrong place and your comments may be removed. Ongoing debates and repetitiveness will not be tolerated.