Hope and Glory conference with Bethel team in PE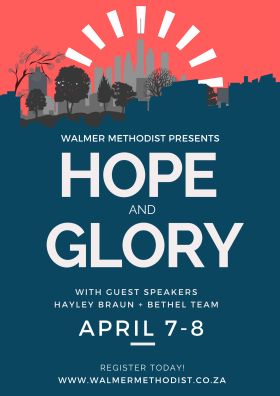 A two day Hope and Glory conference featuring a ministry team from the Bethel School of Supernatural Ministry (BSSM) in Redding, California will be hosted at the Walmer Methodist Church in Port Elizabeth on April 7 and 8.
"If you want to see God's glory in your own life, be equipped with kingdom culture principles and see churches from all around PE come together in hope, this conference is for you!" says Abi Wardle ministry assistant at the church,
She says BSSM pastor Hayley Braun and her students will be guest speakers at the conference which will run from 6.30pm to 9.30pm on Friday April 7, and from 10am to 9.30pm on Saturday April 8. You can register online at http://walmermethodist.co.za/hopeandglory/. The conference cost, which includes a light lunch on the Saturday, is R80.
The Bethel Missions team will also be at the following events during their upcoming visit to PE:
PLEASE SCROLL DOWN TO MAKE/VIEW COMMENTS
ADVERTISEMENTS:
---
COMMENTING GUIDELINES:
You are welcome to make comments that add value to the article above and to engage in thoughtful, constructive discussion with fellow readers. Comments that contain vulgar language will be removed. Hostile, demeaning, disrespectful, propagandistic comments may also be moved. This is a Christian website and if you wish to vent against Christian beliefs you have probably come to the wrong place and your comments may be removed. Ongoing debates and repetitiveness will not be tolerated.