MOVIEWISE — July 21 2017

Pieter Pohl, founder of Innovation Films and marketing manager of CMD Entertainment Africa, sheds some light on the latest movies.
GALLOWS ROAD — DVD Available FROM TODAY!
GALLOWS ROAD DVD now available at CUM Books, Musica, takealot.com and other leading retailers.
For more info visit www.cmdafrica.com
FAITH AFFIRMING MOVIES NOW ON DVD!
LIFE'S STORY 2: THE REASON FOR THE JOURNEY
Movie trailer & more info: NO TRAILER AVALABLE
ALL AGES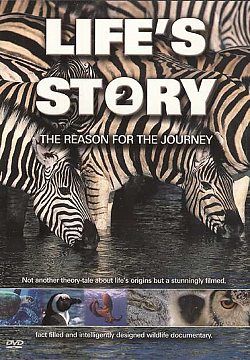 Synopsis:
Life's Story 2 is a factual and visual feast from beginning to end. It takes you on an incredible documentary journey of discovery to unravel some of the most amazing mysteries of the natural world.
From simple cells in the seas to fish, amphibians, reptiles, birds, mammals and eventually humans: this we are told has been the evolutionary tree of life. So how does this theory fit in with all we see around us?
After thousands of years of observable evidence and advances in biological research, do Darwin's evolutionary ideas measure-up to the discoveries of modern science today?
In this program, you will learn about the navigation, techniques and defence mechanisms of marine life, the complex behaviour of birds, the differences between apes, monkeys and humans, "ape-men" mixing link hoaxes, and how some of the large mammals feed and digest their food.
Dove Review:
This documentary merits five doves from us. The footage of various animals, much of it from South Africa, is vivid and fantastic. Incorporated in this video is a bird building a nest and the video reveals how much of a wonder that process really is. This DVD is not only enjoyable to watch but educational as it showcases the defence mechanisms built into various species. The knowledge shared about genes, and that DNA cannot give to succeeding generations something not is not already included in the information of life, makes a strong case for Creationism. Dr Jobe Martin, an expert in this film, supplies his knowledge and vast experience to this program. The series ends with a message about the word of life. A bonus is included, a very brief segment on the behind the scenes activities in making this DVD. — www.dove.org
SUNDAY BLOCKBUSTER
(Sunday July 23 2017: MNET 101 20:05)
MIKE AND DAVE NEED WEDDING DATES
Movie trailer: https://www.youtube.com/watch?v=33MtR-g4Jcg
16VSNL
Synopsis:
Mike and Dave Need Wedding Dates is a raunchy comedy about two doltish brothers ordered to find respectable dates to their sister's wedding in the hopes they won't embarrass anyone, but unwittingly pick two women who are wilder than they are. Mike and Dave Need Wedding Dates has a strong pagan worldview with lots of crude and lewd content, including some overt homosexual references, that diminish its entertainment quality.
Movieguide Review — "Decline This Invitation":
Mike and Dave Need Wedding Dates is a raunchy comedy about two doltish brothers ordered to find respectable dates to their sister's wedding in Hawaii. Since the wedding is in Hawaii, the brothers figure they can get knockouts to join them. However, the brothers are so dumb they post an ad on Craigslist as their main forum for finding dates. The ad is inventively written, and they wind up on a national talk show, which is how hard-partying Tatiana and Alice find out. The two girls fool Mika and Dave into picking them, but they turn out to be a disaster.
With the women appearing to be smart and beautiful, even though they're really airheads, the deal is sealed. The women go to the wedding, but intend to really use it as an excuse for a vacation. Once there, they start revealing their true selves, and the pairings prove to be a disaster both for everyone around them as well as between the couples, until everyone is forced to save the wedding.
Mike and Dave Need Wedding Dates has some snappy pacing, solid comic performances and a few very funny scenes that aren't highly offensive. However, the parts that are offensive are very extreme and pretty much negate any chance that most discerning moviegoers could enjoy the overall movie. Fuelling much of the movie's anarchic behaviour is excessive drinking and marijuana smoking. Media-wise viewers will want to decline the invitation to see Mike and Dave Need Wedding Dates. — www.movieguide.org
PLEASE SCROLL DOWN TO MAKE/VIEW COMMENTS
ADVERTISEMENTS:
---
COMMENTING GUIDELINES:
You are welcome to make comments that add value to the article above and to engage in thoughtful, constructive discussion with fellow readers. Comments that contain vulgar language will be removed. Hostile, demeaning, disrespectful, propagandistic comments may also be moved. This is a Christian website and if you wish to vent against Christian beliefs you have probably come to the wrong place and your comments may be removed. Ongoing debates and repetitiveness will not be tolerated.