MOVIEWISE — June 16 2017

Pieter Pohl, founder of Innovation Films and marketing manager of CMD Entertainment Africa, sheds some light on the latest movies.
THE CASE FOR CHRIST — IN CINEMAS NOW!
THE CASE FOR CHRIST — a movie that shows the life of Lee Strobel and how he did everything in his power to prove that there is no God. Within his quest to prove God don't exist, he experienced the love of God and found Jesus to be real and that changed his life for the good.
For more info visit www.cmdafrica.com
FAITH AFFIRMING MOVIES NOW IN CINEMA!
THE CASE FOR CHRIST
Movie trailer & more info: www.thecaseforchristmovie.co.za
PG
Synopsis:
Based on the true story of an award-winning investigative journalist — and avowed atheist — who applies his well-honed journalistic and legal skills to disprove the newfound Christian faith of his wife … with unexpected, life-altering results.
Dove Review:
The Case for Christ was worth the wait. Set in 1980s Chicago, the adaptation of Lee and Leslie Strobel's story of life-changing faith gives us a multi-dimensional and compelling narrative along with a high quality entertainment experience. The film, a well-crafted exploration of the famous efforts of award-winning journalist Lee Strobel to disprove the viability of Christianity, delivers genuine emotional and intellectual journeys of a marriage, a professional investigation and an agonising father-son reckoning. "Facts are our greatest weapon against superstition and tyranny," Strobel asserts as he confidently embarks on his quest. His character portrayed by Mike Vogel is driven by an unresolved anger and a confidence based more on his intellectual comfort than the nagging truth in his heart.
The investigative process takes Strobel into conversations with a series of brilliantly portrayed experts as he pieces together the questions, conflicts and ultimately the answers to his impossible dilemma. How could this whole idiotic thing be real? These pivotal characters are well-placed scene-stealers. Their roles carry the depth of the frustrating facts — the challenge of the logic — but also because they're played by the likes of Faye Dunaway, Tom Nowicki and Robert Forster. This great cast keeps us glued as the dimensions of Strobel's conflicts start to collide. While Strobel battles through his desire to get his "old wife" back, he's also riding high on his success as a journalist. He's given an assignment for which his confidence in his assumptions earns him great satisfaction of his role in convicting an accused cop-shooter. But as with the complex criminal case that takes a twist he didn't see, so does the puzzle of the resurrection of Jesus.
It is the well-orchestrated revealing of his own biases that becomes his undoing, and through that awakening, he is able to see with fresh vision; with a new heart. Leslie Strobel is portrayed by Ericka Christensen and probably the most beautiful aspect of the movie is to see her kind, strong and unwavering love for her husband, even though it's a great and painful challenge to her new faith. The film elevates Leslie's role to the right heights, and their commitment to each other is an inspirational sacrificial love.
Dove recommends this movie, and we encourage you to take your friends who have doubts and questions about the faith. Let the conversations begin! — www.dove.org
SUNDAY BLOCKBUSTER
(Sunday June 18 2017: MNET 101 20:05)
NOW YOU SEE ME 2
Movie trailer: www.youtube.com/watch?v=4I8rVcSQbic
PG13VL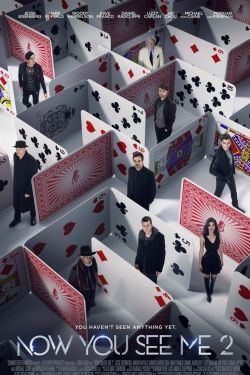 Synopsis:
The Four Horsemen resurface and are forcibly recruited by a tech genius to pull off their most impossible heist yet.
Dove Review:
For those of you who remember the first film in this series, you are in for much of the same deceptions, distractions and misdirection that you saw previously. The plot continues one year from the previous film's conclusion and features the story of the magicians known as the Four Horsemen.
A new member joins the protagonists as they attempt to make a comeback by righting another wrong. However, this time, the plan quickly goes awry and the FBI is hot on their trail. The Horsemen find that a new foe has set them up, and they must steal a special type of computer chip in order to save themselves. With many twists and turns, the team embarks on a journey as they try to discover who this new enemy is while they pretend to go along with the nefarious plan. While the illusions and performances are all impressive, the film does contain a lengthy and unnecessary scene involving a slight of hand with a specific playing card. Additionally, the unfortunate inclusion of excessive profanity prevents us from considering this a family movie. — www.dove.org
PLEASE SCROLL DOWN TO MAKE/VIEW COMMENTS
ADVERTISEMENTS:
---
COMMENTING GUIDELINES:
You are welcome to make comments that add value to the article above and to engage in thoughtful, constructive discussion with fellow readers. Comments that contain vulgar language will be removed. Hostile, demeaning, disrespectful, propagandistic comments may also be moved. This is a Christian website and if you wish to vent against Christian beliefs you have probably come to the wrong place and your comments may be removed. Ongoing debates and repetitiveness will not be tolerated.