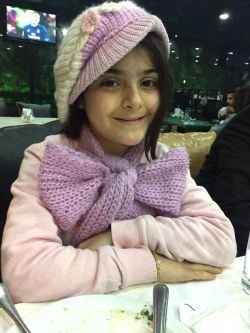 Orginally published in Mail Online
A Christian girl who is an internet sensation after her spellbinding performance on 'The Voice Kids' has revealed how she fled Iraq when ISIS vowed to kidnap and kill her.
Dubbed 'the Babylon Princess', baby-faced Mirna Hana, 11, wowed the judges in Beirut when she sang Iraqi love song 'Yesterday in a Dream' and Frozen's 'Let it Go'.
A YouTube video of Mirna's breathtaking performance has been seen more than 14 million times.
Watch Mirna sing below:
The war-ravaged existence Mirna, a Chaldean Christian, has left behind in Baghdad is a far cry from her new reality in Beirut where she took to the stage in a chiffon red dress to perform in front of the Arab world's pop elite.
Before she walked on stage, her father hugged and said, 'Don't be scared.'
On hearing the opening notes, 58-year-old Iraqi judge Kazem El Saher broke into a broad smile – immediately recognising the rendition of his own haunting love song.
On the hit show, it didn't take Kazem, who is from Mosul, now ISIS' 'capital', in northern Iraq, long to turn his chair to see who was singing so beautifully.
His fellow judges, Lebanese superstar Nancy Ajram  and Egyptian actor and singer Tamer Hosny, were also visibly moved, their eyes welling with tears before hitting the button to compete to mentor the young star.
'How do you sing like that,' judge Nancy asked her in disbelief, when Mirna told her she is only 12-years-old.
In an attempt to lure Mirna to her team, Nancy offered her costumes from Frozen, and Tamer offered her a chance to be in his films.
But it was the simple offer of being able to sing whatever she wanted from fellow Iraqi Kazem Saher, known as the 'Caesar of Arabic Singing', that won her heart and she chose to join his team.
Now she will battle it out with other talented children to win the competition.
A Facebook page celebrating Chaldean Christians posted messages of support for their young star.
Introduced as 'Mirna Hana, the Chaldean Princess of Babylon,' photos and videos of the rising star at family picnics in the park, concerts, at church and holding her own on stage performing duets with vocalists many years her senior are posted.