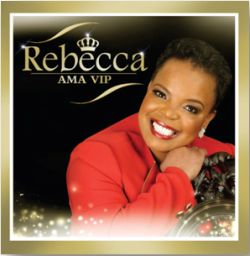 Dr Rebecca Malope, the revered multi-award winner, multi-million selling singer/producer and TV personality, is now taking her music to a special place with her latest release and 35th album "Ama Vip", writes her promoters, Artistry Talent Management (ATM). The album sees the Queen elevate her music to levels never seen before and carving a new path that will lead to her adding more chapters to her history book making career as the undisputed "Queen of Gospel".
Led by the vigorous first single "Sivikele", "Ama VIP" sees the star continue working with the distinguished and long-time collaborator Sizwe Zako, and introducing the Dynamic Duo of Robbie Malinga and Mojalefa Thebe (Zahara, Naima Kay, Ntando and more award-winners/top sellers) on the special project. Recorded live, the set also sees the star create some heavenly tunes with the backing band, which "has been with me through thick and thin and understand what I am about musically".
 "Ama Vip", also sees Robbie's "Clash of The Choirs" winning Team 'TeamRobbie' used as a backing act on the album, and Metro FM/2000 FM's Thami Ngubeni features on "Fix Me Jesus". The title is a move away from the usual gospel titles that the Queen says are getting to be monotonous and simply relates that "there are no VIPs in heaven, no middle class and basically that we are equal in the eyes of the Lord". 
When asked about the album, she passionately states that; "Music is not just meant to entertain people, it should always be used as an instrument towards achieving a greater goal. Like right now I see too much violence and oppression in the world on a daily basis. I feel one of the reasons for this is lack of unity amongst people is because of the idea that we are not equal or the same (upper class, middle class and lower class citizens). I hope this album will unite us as a nation. I pray that it creates an 'AmaVip' movement that reminds everyone that when all is said and done we are equal in God's eyes and results in unity, love and respect amongst all people."
"I called Robbie and Mojalefa to create what I know will be a new flavour and sound altogether," remarks the "Clash of The Choirs" judge and "Gospel Times" presenter. "I want to leave a legacy, where my songs will be in hymn books and used in churches around the world. Interestingly, one of her previous hit songs "Uthando Lwam'" is already used in the US, France and Swahili hymn books.
"Don't get me wrong," she says, "I'm not trying to say the existing hymns don't matter, but we have to take the industry forward and create additional material for it." 
It is no doubt that this album will not only move the industry forward by providing us with new Gospel songs that will be sung for generations to come but it will also, in true Rebecca Malope style, move the nation and draw us closer to the Almighty, concludes ATM.