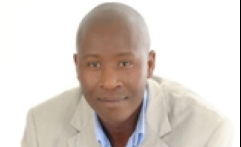 When Port Elizabeth pastor Afrika Mhlophe agreed to pray about the problem of ancestral worship during his prayer slot at a city prayer day in 2011, he had no thoughts of writing a book on the topic.
"But after that prayer something happened. It was just a few minutes of prayer but for months thereafter, all kinds of people came to me talking about the impact of that prayer and asking whether I had written anything on the subject," he said.
During a flight to Europe he started jotting down some points in response to questions people were asking him about ancestral worship. As he wrote it occurred to him that each of the key points could be expanded into a book chapter.
And then at a prayer conference in Nigeria in 2012 he noticed that Christian speakers in other African countries often write books on their speech topics.
"I realised that we in South Africa limit ourselves by not writing as much as we can."
On his return from the Nigeria conference in July last year, Mhlophe began writing his book on "Christianity and the veneration of the dead". He is busy concluding the last of the 20 chapters and hopes that the book will be published by ****.
Mhlophe, who is a regular writer for Gateway News and chairman of the Gateway News board, and a speaker at the Karoo Mighty Men Conference at the end of this month, says that he has relied on the Bible for most of the content of his book.
"Of course I have done some research. I spent some time studying historical issues and the meaning of words. But I have really stayed within the limit of what the Bible says – and it has a lot to say on the topic," he said.
The book begins with a discussion on the general theme of what the Bible says about death "because I believe that unless you settle that issue first, we would not be able to agree on what happens after death".
Life after death, ancestors and ancestral spirits, burial rites and practices, syncretism and idolatory are some of the other issues covered in the book.
Mhlophe says that during some stages of the writing process, as he wrote non-stop for four to five hours, it felt as if the Holy Spirit was writing as the words just kept flowing.
But there have also been setbacks which have slowed down the completion of the writing project. In February thieves broke into his home and stole, among other things, the laptop computer he was using to write the book. He lost a month's writing that he had not backed up. To add to the frustration he had a meeting scheduled with publishers two days after the burglary. Prior to that he had never experienced a burglary at the house where he and his family had been living for 15 months.
Subsequently he lost another chunk of writing when he had a technical problem with saving data.
"I have concluded that the enemy does not want to see the book published because it is
taking on his realm in a big way. But the opposition makes me more determined than ever to complete it," said Mhlophe.
He said while the book was primarily aimed at Christians who were struggling with the issue of ancestral worship, it would be relevant to all Christians who wanted to no more about the topic.