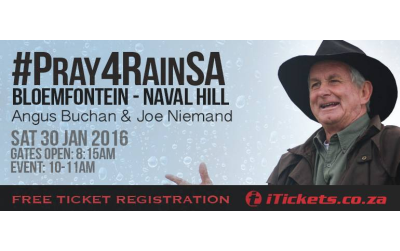 Farmer evangelist Angus Buchan urges South Africans to join him in numbers in Bloemfontein on Saturday, January 30, to beseech God — The Rainmaker — for abundant, sustainable rain.
The serious drought in South Africa is placing people — especially farmers — under financial pressure and it is soul destroying when it comes to their crops and livestock dying, he says.
He continues: "And because of that people become anxious and they start saying things and doing things they don't really mean. So we are going to Bloemfontein on the 30th of January at 10 in the morning and we are going to pray for rain. It is not going to be your normal type of outreach campaign. There will be one or two songs of worship [led by Joe Niemand] and then I will preach the Word of God — probably from 2 Chronicles 7:14 — and then we will pray for rain and we believe that God is going to change the dynamics of the weather. He's done it before!
"We are coming to ask the Mighty God to change the situation in the physical and the spiritual — first the spiritual.
'He is the Rainmaker'
"I think you know me well enough, whenever we have a campaign it ends with rain. He is the Rainmaker and I am one of His sons and so are you. So we are beseeching the Rainmaker to bring abundant, sustainable rain and not just a shower and that this will be a sign to the world that Jesus Christ is for us and not against us ( Rom 8:31). We are believing for people from all walks of life to attend this meeting which will be held on Naval Hill in the middle of Bloemfontein."
Angus says he has been invited to pray for rain in numerous places but God has said "Bloemfontein only". He says Bloemfontein is a strategic location for the prayer event because it is in the centre of the nation.
"We are asking for workers, for schoolchildren, for farmers to come from far and wide. There is nowhere that is too far to come for rain. I'm talking about the North West Province; Im talking about the Eastern Cape; Im talking about the Mpumalanga area; I'm talking about KwaZulu-Natal — that they will come in their multitudes to beseech the Lord. the Miracle Worker to bring us rain. And I think it is going to be very important when it comes to the type and the number of people who come because that will determine how serious we are for God."
The #Pray4RainSA event at the 'sterre wag'/newly built reservoir in Naval Hill, Bloemfontein is free and open to everyone but people must book via iTickets through the website (https://itickets.co.za/events/355910) or by calling 086 1000 291. Farmers are invited to donate some lucerne bales for people to sit on and then to leave them to feed game in the reserve. People attending the 10 to 11am event should bring sunblock, hats, camping chairs, water and umbrellas. Gates open at 8:15am and people are advised to come early to avoid the rush.
Inquiries can be directed to Elana @ Free State Agriculture / FS Landbou.