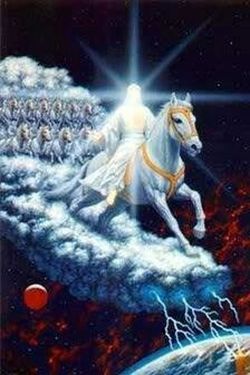 Lately, we have been bombarded with apocalypse, end-times, Armageddon and catastrophe prophecies, predictions, articles and news.
In the world the word apocalypse is commonly used to describe a disastrous upheaval expected to occur just before the end of the world. Other synonyms for apocalypse are: disaster, catastrophe, destruction, Armageddon, Day of reckoning, judgement day and end of the world.
According to the Merriam-Webster encyclopaedia, an apocalypse is a great disaster: a sudden and very bad event that causes much fear, loss, or destruction.
However, it is important that we do not allow the world's understanding of apocalypse to influence our thinking, because as followers of Christ we understand that apocalypse is not a great disaster or an environmental catastrophe, but a prophetic revelation — the disclosure or revealing of something hidden and better.
As Christians the Book of Revelation (Greek – Apocalypsis Ioannou), the last book of the New Testament, is the revelation John received on Patmos island that reveals: the end of days; the coming of Jesus Christ our Saviour; His victory over Satan; the reward of the righteous and the punishment of the wicked; and a new heaven and a new earth in which the Lord God Almighty and the Lamb, His Son Jesus Christ shall reign forever and ever dwelling with men, which is the primary meaning of the word apocalypse in terms of a Christian understanding.
Lifting of the veil
Apocalypse comes from the ancient Greek apocálypsis, meaning "uncovering", translated literally from Greek, it means a disclosure or revealing of knowledge, a lifting of the veil or revelation.
The Biblical prophets' revelations show God's justice as taking place and aim to show God's way of dealing with humankind and His ultimate purposes. The apocalyptic writers of the Bible, among whom are Isaiah, Ezekiel, Zechariah, and Daniel in the old Testament, and John, Mark and Paul in the New Testament, who often reveal the meaning of events in connection with the ending of the present age and the coming of our Messiah, Lord Jesus Christ, when God destroys the ruling powers of evil and raises the righteous to life in a Messianic Kingdom.
Therefore, the apocalypse or end times is something we should not be worried about, but positively expect, looking forward to the coming of our Saviour as the bride looks forward to the bridegroom.
Nevertheless, it is a time in which we should be aware of the need to make lifestyle adjustments in readiness for His coming, as in Matthew 25; for when the cry went out for the virgins to go out to meet the Bridegroom and when He arrived the foolish virgins were out buying oil for their lamps while the wise virgins were ready because they took oil in their vessels with their lamps. The wise virgins went in with the Bridegroom to the wedding: and the door was shut.
How we are to be ready for the Bridegroom has much to do with what we shall wear at the wedding. In Matthew 5:20 Jesus says: "For I say to you, that unless your righteousness exceeds the righteousness of the scribes and Pharisees, you will by no means enter the kingdom of heaven".
Isaiah 61:10 also points to the importance of righteousness as a garment for our meeting with the Lord: "I will greatly rejoice in the Lord, my soul shall be joyful in my God; for he has clothed me with the garments of salvation, he has covered me with the robe of righteousness, as a bridegroom decks himself with ornaments, and as a bride adorns herself with her jewels".
Unmerited grace of God
So, we will wear garments of salvation covered with a robe of righteousness at our meeting with Jesus our bridegroom, neither of which we can obtain by good works or of our own doing, but only by the unmerited grace of God.
The unmerited grace of God means that our salvation has nothing to do with what we do, as each and every one of us are miserable sinners (if you don't mind me saying so) who have been unable to keep His laws, but whom, thankfully, God loved before we loved Him and loved so much that He sent His only begotten Son as a sacrifice to die a most painful and humiliating death on the cross to wipe away our sins, save us, redeem us and reconcile us to Him.
(Romans 3:21 – 25) "But now the righteousness of God without the law is manifested, being witnessed by the law and the prophets; Even the righteousness of God which is by faith of Jesus Christ unto all and upon all them that believe: for there is no difference: For all have sinned, and come short of the glory of God; Being justified freely by his grace through the redemption that is in Christ Jesus: Whom God hath set forth to be a propitiation through faith in his blood, to declare his righteousness for the remission of sins that are past, through the forbearance of God".
The grace of God is the means by which we were saved through faith in Jesus Christ and is the means by which we are being made righteous through His Holy Spirit.
(Titus 3:4 – 7) "But after that the kindness and love of God our Saviour toward man appeared, Not by works of righteousness which we have done, but according to his mercy he saved us, by the washing of regeneration, and renewing of the Holy Ghost; Which he shed on us abundantly through Jesus Christ our Saviour; That being justified by his grace, we should be made heirs according to the hope of eternal life".
Brennan Manning says in his wonderful book The Ragamuffin Gospel: "When I get honest, I admit I am a bundle of paradoxes. I believe and I doubt, I hope and get discouraged, I love and I hate, I feel bad about feeling good, I feel guilty about not feeling guilty. I am trusting and suspicious. I am honest and I still play games".
I feel as if Brennan Manning is writing about me who is full of such (and worse) contradictions.
However, Manning adds: "To live by grace means to acknowledge my whole life story, the light side and the dark. In admitting my shadow side, I learn who I am and what God's grace means. As Thomas Merton put it, 'A saint is not someone who is good but who experiences the goodness of God' ".
All a gift
Manning says that grace proclaims the awesome truth that all is a gift. All that is good is ours, not by right, but by the sheer bounty of a gracious God.
"We have been given God in our souls and Christ in our flesh. We have the power to believe where others deny, to hope where others despair, to love where others hurt. This and so much more is sheer gift; it is not reward for our faithfulness, our generous disposition, or our heroic life of prayer," says Manning.
He explains that even our fidelity – our faithfulness our goodness – our very turning to God spending time with Him, is a gift of God.
Manning says: "My deepest awareness of myself is that I am deeply loved by Jesus Christ and I have done nothing to deserve it."
Furthermore, he explains that we need not hide all that is ugly and repulsive in us.
"Jesus comes not for the super-spiritual but for the wobbly and weak-kneed who know they don't have it all together, and who are not too proud to accept the handout of amazing grace. As we glance up, we are astonished to find the eyes of Jesus open with wonder, deep with understanding, and gentle with compassion," says Manning.
After all, says Manning, as Morton Kelsey wrote, "The church is not a museum for saints but a hospital for sinners".
"The Good News", adds Manning, "means we can stop lying to ourselves".
"The sweet sound of amazing grace saves us from the necessity of self-deception. It keeps us from denying that though Christ was victorious, the battle with lust, greed, and pride still rages within us. As a sinner who has been redeemed, I can acknowledge that I am often unloving, irritable, angry, and resentful with those closest to me.
No need for spiritual cosmetics
"When I go to church I can leave my white hat at home and admit I have failed. God not only loves me as I am, but also knows me as I am. Because of this I don't need to apply spiritual cosmetics to make myself presentable to Him. I can accept ownership of my poverty and powerlessness and neediness," says Manning.,
So all we have done to be saved as Christians and become followers of Christ is to accept God's grace by faith in Jesus Christ, and all we should continue to do is to depend on Him, rest in Him, rely on Him, and trust in Him completely and totally to prepare us for His Son's coming. For we can do nothing to prepare ourselves; all we can do is surrender and submit to the Lord's will for His Holy Spirit who dwells within us to work the mind of Christ in us, transforming us into His likeness and image ready to meet Him.
While we can be confident in the Holy Spirit's transforming work in us, our focus should be ever fixed on Jesus Christ through His Holy Spirit forgetting self in us, in fact dying to self and living to Christ — being totally dependent on Him. Jesus said in 2 Corinthians 12:9 "My grace is sufficient for you, for My strength is made perfect in weakness".
We need to gratefully accept the grace of Jesus Christ, spend time in His presence, and be aware of Him as a person, a person with whom we have a relationship.
Lastly, it is important to note that although we can be informed by both the past and future, we must not dwell on or in either the past or future. It is imperative that we dwell in the present and remain focused on the present moment – now, because it is only in the present moment that the Bridegroom will arrive and it is only in the present that we can encounter Him and enjoy His presence.
Likewise, while we should be informed by end-time signs and prophecies, they should not lead us away from our focus on Jesus or scare us. Rather they should fill us with a joyful anticipation, renewed concentration on our relationship with Jesus, and awareness of what we are thinking, speaking and doing right now in preparation to meet with Him, "being confident of this very thing, that He who has begun a good work in you will complete it until the day of Jesus Christ" (Phillippians 1:6).