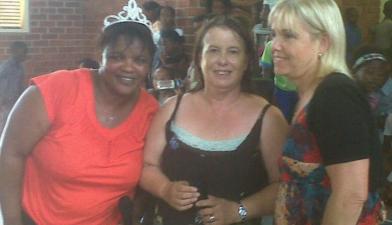 It is so amazing to see how God can connect people all over our country, as we saw last week during our outreach to Clarkson, a small Eastern Cape town between Storms River and Humansdorp, near the scenic Langkloof.
Last year I subscribed to Gateway News after discovering it through Unashamedly Ethical. I was very interested in an article written by Marieka van der Merwe from Port Elizabeth. Marieka wrote about Nancy Chasa, a woman, who turned to prostitution, as a result of her childhood circumstances. God lifted her out of these circumstances and two years ago the Holy Spirit convinced her to move to Clarkson to go and minister amongst the women and children in the area. At the end of the article were Nancy's contact details, in case somebody would like to contact her.
During December 2012, Mina Deysel and Wilma du Toit, two of our Move 4 Christ Ministries co-workers met with Nancy in Bellville, Cape Town. Two weeks later, while I was on vacation in Knysna, I drove through to Plettenberg Bay and met Nancy to finalise arrangements for a women's conference in Clarkson.
On Friday, February 8, Claudette Smit, a pastor's wife at AFM Protea in Paarl, Wilma, Mina and I, left for Clarkson. The devil was not very happy about this outreach. Halfway between Cape Town and Clarkson, I got a call from my office to say that my children's house was robbed and the housekeeper was held at gunpoint. Claudette was driving and I immediately started with spiritual warfare. We realised that there were great blessings in store for the weekend.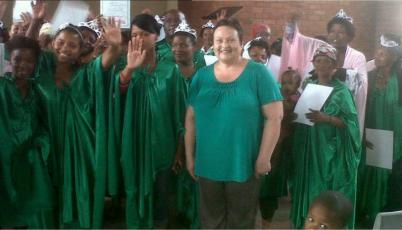 Late that afternoon, we arrived at Titsikamma Faith Farm, where our hostess, Irma Jackson, sponsored two guest units for the weekend.
76 women turned up at the community hall that Saturday morning. What a shock to discover that another 80 children turned up for the meeting. We prepared food for 100 women and it was not enough to feed all these hungry kids. At one stage I started praying that God must multiply the food. We were forced to go and buy bread to provide extra food.
Afterwards Nancy told us that most of the children just wander in the streets during the day and do not get food to eat. We encouraged her to start negotiating for a soup kitchen to feed the children. Children of 5 years and younger engage in sex with each other. There are no stimulating activities for them and they think their behaviour is normal. There is a great need for various areas of teaching in the community.
Manifestations
I ministered about 'Just be yourself', and then Claudette ministered about ' How to be a King's Daughter'. The women all came up for prayer. We realised that the devil was very angry, when manifestations happened and we literally had to cast demons out, like in Matthew 8. I could't help thinking what would happen if I told the demons to go into the cattle that were grazing next to the community centre!!!
After lunch, I opened the 10 commandments to the women. For example, I explained that 'you shall not steal' does not only refer to stealing from somebody else, but includes borrowing money from a financial institution or a friend and not paying it back. The commandment which says: "you shall not covet your neighbour's belongings" can cause you to be so busy striving to possess what other people have that you will not have time for God.
On Sunday morning the hall was packed and we did not have enough chairs for everyone. The children had to sit on the floor. Jacobi du Toit, from Ukraine ministered. The anointing of the Holy Spirit was powerful.
Marieke van der Merwe, who wrote the Gateway News article about Nancy, came through all the way from Port Elizabeth, together with two friends.
A divine appointment – a writer, a former prositute who became a preacher, and four women from Women on the Move 4 Christ Ministries, who have a passion for the women of our country, miraculously connected through an article in an online newspaper.
I would like to end this testimony by asking for your continous prayer for us. It is not easy to get sponsorships for fuel, food for the conference attendances, gifts for the women and printing to advertise the conferences. It is a fulltime job to get finances. Sometimes it feels as if the load is too heavy, but God provides time after time.
Just after I finished writing this article, I called Nancy. The women of Clarkson are still talking about this weekend. Clarkson will never be the same.