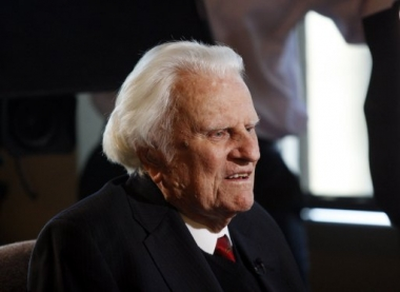 Watch Graham's powerful last public message 'My Hope America' here
Originally published in Christian Today
"America's Pastor" Billy Graham is turning 95-years-old today.
The North Carolina-born evangelist is celebrating his milestone birthday with hundreds of people including notable politicians and business leaders from across the nation.
After decades of preaching, Graham delivered what may be his final public message in an evangelical effort called "My Hope America, with Billy Graham" to reach people across the United States with the Gospel of Jesus Christ.
The 28-minute programme is expected to air on Fox News at 10 p.m (US time) tonight. The programme is also expected to be aired by almost 500 local TV stations and 25 000 churches from across America.
The DVD will also be shown at Graham's birthday party which will be held at Omni Grove Park Inn in Asheville.
Pastor Rick Warren is expected to attend the celebration, along with former US President Bill Clinton, Alaska Gov. Sarah Palin, North Carolina Gov. Pat McCrory, Donald Trump, and Rupert Murdoch. Christian artist Michael W Smith has also written a song about what sort of conversation Graham may have with Jesus when he goes to heaven. Smith may also perform at the party.
Graham will not be speaking but wellwishers may go to the Billy Graham Library in Charlotte to sign birthday greetings.
The retired evangelist has preached to billions of people worldwide over his lifetime. He served as a spiritual advisor to the White House from President Harry Truman's time in office to George W. Bush.