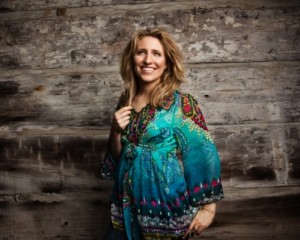 Taking home four trophies—the most Dove Awards of any artist at last Thursday's ceremony—GRAMMY-winning songwriter and worship leader Laura Story embellished her acclaimed career as she nabbed the award for Song of the Year for her celebrated, multi-week No. 1, "Blessings."
The song and album of the same name also won awards for Pop/Contemporary Song of the Year and Pop/Contemporary Album of the Year. In addition, Story earned the Dove for Songwriter of the Year, a fan-voted award. The Gospel Music Association (GMA)'s 43rd Annual GMA Dove Awards were held on Thursday night, April 19, at the FOX Theatre in Atlanta.
"I am so grateful for the kindness of the GMA last night, as well as the listeners, fans, radio and retail who have so graciously supported us this past year," says Story. "I'm even more thankful that God uses broken things and broken people to shine His glory through. All praise and honour to Him."
Fresh off her Dove wins, Story was also nominated for three Billboard Music Awards on Thursday night: Top Christian Song for "Blessings," Top Christian Album (Blessings), and Top Christian Artist. The Billboard Music Awards  will take place at Las Vegas' MGM Grand on Sunday 20th May.
Story's 2008 national debut, Great God Who Saves, won a Dove Award for Inspirational Album and earned her two consecutive nominations for Female Vocalist of the Year. In February of this year, Story picked up her first GRAMMY, winning the award for Best Contemporary Christian Song for "Blessings." In addition to this GRAMMY win, her four Dove wins and three Billboard Music Award nods crown an immensely successful period for the decorated worship leader.
"Blessings," which was released last year, was in rotation at over 100 Billboard Christian format reporting stations going No. 1 at Christian AC, Inspo and the National Audience charts for multiple weeks. Additionally, the song also held the No. 1 spot on the iTunes Christian/Gospel Top Songs chart for 28 consecutive weeks. The critically acclaimed album Blessings debuted at No. 4 on Soundscan's Overall chart and has remained one of Christian music's best sellers to date.
Currently on the road with Mandisa for the "Girls Night Live" tour, Story took time out from the 30-city trek to attend the Dove Awards at which she and husband, Martin, revealed that the baby they're expecting later this year is a girl.
Story's first book, What If Your Blessings Come Through Raindrops?, will release locally in the next few months through Christian Art Distributors. Inspired by her Grammy and Dove Award-winning hit song, "Blessings," the book consists of 30 daily devotions designed to draw readers into a deeper understanding of God's sometimes mysterious gifts.
Videos:
"Blessings" – Album interview: httpv://www.youtube.com/watch?v=xU30pB3EfC8
"Blessings" – The story behind the song: httpv://www.youtube.com/watch?v=gjB2skJi2co