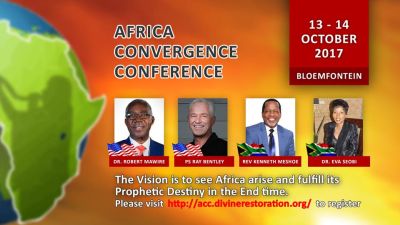 Thousands of Christians from across Africa and the world are expected to converge in Bloemfontein on October 13 and 14 for the first Africa Convergence Conference.
The conference aims to share a prophetic message of spiritual guidance and inspiration relating to Africa as a continent of refuge, and aims to make a radical call to Christians across the globe — especially in Africa — to heed the move of God, that Africa should arise and shine, for its day has come, says the organisers.
The speakers will present words regarding the opportunity for Africa to be positioned into its prophetic destiny.
The conference theme is: "To see Africa arise and fulfill its prophetic destiny in the last days".
For a long time Africa has been considered the least of the continents. According to biblical history, Africa has been  –and still is — a place of refuge. It is a place where God hid His chosen ones and prepared them for great destinies.
Jesus was hidden in Africa. Israel came to Africa to escape the famine through Joseph, and Moses was hidden and prepared in Africa to lead the nation of Israel to the Promised Land.
[fbvideo link="https://www.facebook.com/Africacc.2017/videos/707364229448502/" width="400″ height="330″ onlyvideo="1″]
The gold that was used for the construction of God's temple came from Africa.
Geared towards preparing Africa on Gods' Commission, the conference aims to prepare Africa for the greatest revival that has not yet been seen in these last days, say the organisers.
International and notable preachers and powerful speakers will share the prophetic message of Jesus Christ.
Pastor Ray Bentley from Maranatha Chapel in California who is passionate about Africa will be present. Dr Robert Mawire, an African himself who now resides in the USA will be a guest speaker. South Africa's well known political leader Rev Kenneth Meshoe from the African Christian Democratic Party as well as Dr Eva Seobi, the founder of Women Alive
The conference venue is Kopanong Auditorium, Bloemfontein. It will run from 7.30am to 8.30pm on Friday October 13, and from 9am to 9pm on October 14.
You can register online at no cost at http://acc.divinerestoration.org/ More information can be requested via email at africacc.2017@gmail.com. Or visit the Facebook apage at https://www.facebook.com/Africacc.2017/
[fbvideo link="blob:https://www.facebook.com/0f7b2118-c695-4627-82ec-c51ff01ad67f" width="400″ height="330″ onlyvideo="1″]