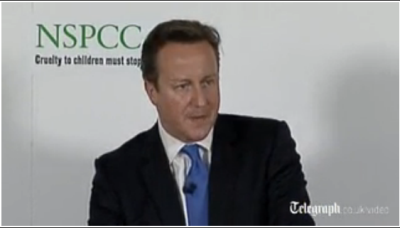 Christian concern that PM could be 'misleading' parents
British Prime Minister David Cameron announced a plan today (Monday, July 22) aimed at curbing Internet pornography in the United Kingdom.
Cameron's plan requires every Internet user in the country to say whether they want to have access to pornography, and creates a joint British and American "task force" to take on obscene websites, which Cameron said are "corroding childhood," according to a report in The Telegraph.  
However, The Christian Institute reports that there have been several false starts on this issue and last week Cameron was accused of misleading parents after a leaked letter showed he was asking web firms to rebrand their safety settings without changing how they work.
Google and other search engines also will be required to create a "black list" of the most depraved and illegal terms used to find porn sites. The new policies also include measures to stop children from accidentally finding explicit, although legal, pornographic images in public spaces. A "family-friendly" Wi-Fi initiative may begin as soon as August, with six of the largest Internet access companies on board to block legal pornography where kids can view it, including train stations and Internet cafes.
Porn-linked crimes
Cameron's action comes in the wake of high-profile crimes that have been linked to access to illegal pornography and violent images online.
Cameron recently met with the parents of two girls who were murdered by men who were found to have viewed child pornography on the web. The parents of 5-year-old April Jones, and 12-year-old Tia Sharp had called on the prime minister to do more to stop violence against children, the Telegraph reported.
Some of the tactics in the new plan include Internet service providers being compelled to require customers to make an active choice about filtering adult content when they begin using services, and a campaign to deter individuals who seek to download illegal content. Every household with broadband Internet also will be asked to confirm whether they want to activate parental controls blocking adult content by the end of 2014.
At Monday's speech in London, Cameron warned that the Internet is putting "the innocence of our children" at risk.
"[The Internet] has an impact: on the children who view things that harm them, on the vile images of abuse that pollute minds and cause crime, on the very values that underpin our society,"  Cameron's speech read, according to the Telegraph.
"I feel profoundly as a politician, and as a father, that the time for action has come," Cameron said.
Christian Today reports that  Cameron's plans to introduce an automatic block on internet pornography unless households choose access have been welcomed.
Reporting on the Prime Minister's speech today, Christian Today reports that he said parts of the Internet were a "direct danger to our children" that "must be stamped out". 
These include websites with child abuse images and extreme pornography.  
"The fact that many children are viewing online pornography and other damaging material at a very young age and that the nature of that pornography is so extreme, it is distorting their view of sex and relationships," he said.
"Of course, a free and open internet is vital. But in no other market – and with no other industry – do we have such an extraordinarily light touch when it comes to protecting our children.
"Children can't go into the shops or the cinema and buy things meant for adults or have adult experiences – we rightly regulate to protect them.
Balancing freedom and responsibility
"But when it comes to the Internet in the balance between freedom and responsibility, we have neglected our responsibility to our children."
Christian Today reports that the Government will also work with police forces to form a single secure database of illegal images of children to help them identify paedophiles.
Baroness Howe, whose Online Safety Bill is before Parliament, welcomed the measures, although she cautioned that they would not be effective without "robust" age verification.
"Of course it will be important to monitor implementation, and we must not count our chickens before they have hatched, but today is a good day for all of us who have long campaigned for child safety online. I congratulate the Prime Minister on taking this strong stand," she said.
The SafetyNet campaign for tighter controls on internet pornography, being run by Premier Christian Media and Safermedia, was positive about the Prime Minister's announcement but also warned that the measures needed to be implemented.
"We are looking to this Government to take decisive action to halt this blatant and relentless assault on young and impressionable minds," said Premier chief executive Peter Kerridge.
"Our many allies and supporters can justifiably congratulate themselves on a campaign well-fought but, until these proposals are implemented, we shall maintain our vigil to combat the open door to pornography and depravity and its impact on the innocence of our children."