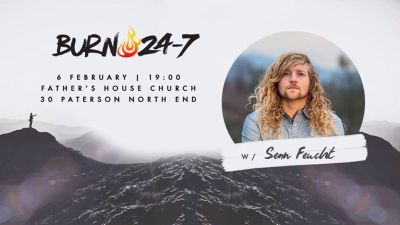 If you've ever attended a Burn 24/7 Worship Event in Port Elizabeth, Cape Town or Johannesburg, you will know the power and breakthrough that comes when churches across every city join together to worship one name with one voice — Jesus.
This coming Monday, Port Elizabeth is honoured to be hosting Burn 24/7 founder, Sean Feucht for a night of worship and ministry.
Sean Feucht is a husband, father, missionary, musician, speaker, author and founder of a grassroots global worship, prayer and missions organisation; Burn 24/7. His lifelong quest and dream is to witness a generation of burning hearts arise across the nations of the world with renewed faith, vision and sacrificial pursuit after the Presence of God. He travels to 20-30 nations per year planting furnaces of worship and prayer, training, mobilising, leading worship and speaking. He has produced, recorded and released fifteen music albums, numerous books and teaching resources. He is married to his high school sweetheart, Kate, and is obsessed with their three children: Keturah, Malachi, and Ezra. He currently resides in Redding, California where he has recently joined the Bethel Music Collective.
This citywide night of worship and ministry will be led by one united team from eight different churches across Port Elizabeth. Sean will minister and share the word after just flying in from India. We are trusting for hearts, young and old and for the local churches in Port Elizabeth to be ignited with revival fire and with a passion to reach the lost at any cost, whether it be in our immediate community or across the nations. This is a call to all churches, all denominations, all languages, from all areas and of all ages, from youth groups to home cells, prayer groups or city leadership to make an effort to attend this night of united worship and ministry.
Details are as follows:
Monday February 6 2017 at 19:00
Father's House Church, 30 Paterson Road, North End
(A love offering will be taken to bless Sean and Burn24/7's global mission)
We ask that you share our event at your local church to spread the word:
https://www.facebook.com/events/1544705338890074/