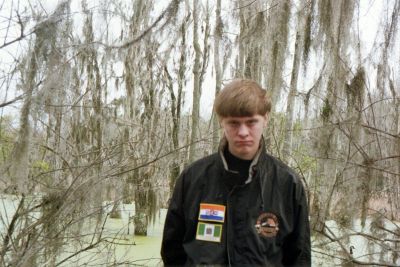 Alleged shooter has no SA links despite old SA flag on jacket
Originally published in The Christian Mail
The gunman wanted in the killing of nine people at a prayer meeting at a historic black church in this city's downtown area was taken into custody on Thursday morning (June 18, 2015) in North Carolina, USA.
Charleston's police chief, Greg Mullen, said the suspect, Dylann Storm Roof, 21, had been caught about 320 km away, in Shelby, NC, a town west of Charlotte. His arrest came about 14 hours after the shooting.
The police here have said Roof, who is from the Columbia, SC., area, is the white gunman who walked into a prayer meeting, sat down with black parishioners for nearly an hour, and then opened fire — a burst of violence that officials described as racially motivated.
Mullen said that Roof was located after a resident alerted police to a suspicious vehicle. Roof did not offer any resistance, the police chief said.
Roof's Facebook profile picture shows him wearing a jacket decorated with the flags of apartheid-era South Africa and the old Rhodesia, now Zimbabwe. News24 reports that Roof does not appear to have any links with SA as it could not find an official record of an individual with his name and birthdate on any South African record, during a search on Thursday afternoon.
Roof walked into the Emanuel African Methodist Episcopal Church after 8pm, and the first call to police came shortly after 9 pm. Among the dead was the pastor of the church, Rev Clementa C Pinckney, 41, who began preaching in church when he was 13 and became a pastor at 18. Pinckney was also a state senator; he was was elected to the SC House of Representatives at 23, becoming the youngest African-American to be elected to the State Legislature.
Survivor
Sylvia Johnson, a cousin of Pinckney, told NBC News that she had spoken with a survivor of the shooting who told her the gunman reloaded five times. The survivor, she said, told her that the gunman had entered the church and asked for the pastor. Then he sat next to Pinckney during the Bible study before opening fire.
"I have to do it," the gunman was quoted as saying. "You rape our women and you're taking over our country. And you have to go."
Calling the shooting the work of "a hateful and deranged mind," Mayor Joseph P Riley Jr said it was hard to imagine churchgoers at "a prayer service and a Bible service, and they're speaking about the Holy Scriptures and praying," while someone is "sitting there contemplating the act of murder."
US President Barack Obama on Thursday expressed anger over the "senseless" church shooting and said Americans had to confront the fact that frequent incidents of gun violence do not occur in other advanced countries, reports enca.com.
Obama, in a statement to reporters at the White House, said he and his wife, Michelle, knew Rev Pinckney. 
"To say our thoughts and prayers are with them and their families and their community doesn't say enough to convey the heartache and the sadness and the anger that we feel," Obama said, adding it was particularly heartbreaking that the incident occurred in a place of worship.
Facebook message to alleged shooter
Facebook has removed Roof's Facebook page reports CBN.com. However, before it was pulled, Gospel musician Marcus Stanley left him a message to consider. It was the only comment under Roof's profile photo.
"I don't know you," Stanley wrote. "You're not captured yet so there is a chance that you may see this message."
"I don't look at you with the eyes of hatred, or judge you by your appearance or race, but I look at you as a human being that made a horrible decision to take the lives of 9 living and breathing people," he wrote.
"Children do not grow up with hatred in their hearts. In this world we are born color blind. Somewhere along the line, you were taught to hate people that are not like you, and that is truly tragic," he said. "You have accomplished nothing from this killing, but planting seeds of pain that will forever remain in the hearts of the families that lost their lives and countless hearts around our country."
"If you're still out there and you have your phone with you… Give your heart to Jesus and confess your sins with a heart of forgiveness," Stanley continued.
Stanley's message to Roof has now been shared on social media thousands of times. Read more.