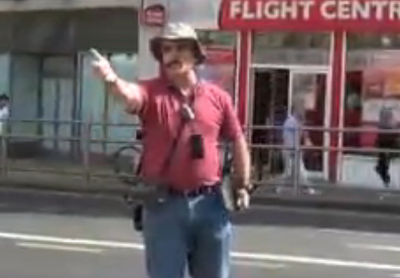 Originally published in The Telegraph
A Christian street preacher has been arrested and questioned about his beliefs after saying that he thinks homosexuality is a "sin".
Tony Miano, 49, a former senior police officer from the US, was held for around six hours, had his fingerprints and DNA taken and was questioned about his faith, after delivering a sermon about "sexual immorality" on a London street.
Mr Miano, who served as a Deputy Sherriff in Los Angeles County, said his experience suggested that the term "thought police" had become a reality in the UK.
He said he was amazed that it was now possible "in the country that produced the Magna Carta" for people to be arrested for what they say.
Mr Miano, who was provided with a solicitor by the Christian Legal Centre, was arrested under the controversial clause of the Public Order Act which bans "insulting" words or behaviour.
The clause has recently been dropped by the House of Lords after a high-profile free speech campaign but the change has yet to come into force.
The father of three, who took early retirement from the police to become a full-time preacher two years ago, was detained after was preaching outside a shopping centre in Wimbledon, south west London, on Monday.
He was speaking from a passage from Thessalonians which mentions "sexual immorality" and listed homosexuality alongside "fornication" as examples what he believed went against "God's law".
A woman out shopping called the police to complain that she was offended, prompting two officers to be dispatched to arrest him.
In a video placed on YouTube he can be seen explaining the changes to Section Five to the officers who said they were not aware of it.
During the subsequent questioning at Wimbledon police station he was asked about his beliefs on what constitutes "sin" and about how he would treat gay people in hypothetical situations.
"As the questioning started it became apparent that the interrogation was about more than the incident that too place in the street but what I believed and how I think," he said.
"I was being interrogated about my thoughts … that is the basic definition of thought police."
He said he had arrested many people in his career but never over something they believed.
"It surprised me that it is possible for a person to be taken to jail for their thoughts," he said.
"It surprised me that here in the country that produced the Magna Carta that an otherwise law abiding person could loose his freedom because one person was offended by the content of my speech."
He said he feared Britain and other countries were already on a "slippery slope" towards the erosion of free speech and has written to MPs outlining his experiences.
Andrea Williams, of the Christian legal Centre, said: "We might joke about there being 'thought police' but this case shows that it has already become a reality.
"Sadly we are seeing cases like this increasingly often".
Mr Miano said that after he was questioned he was advised by his solicitor that police had indicated that they expected to charge him with a public order offence.
But after being sent back to his cell for around another hour he was informed that an inspector had decided that no further action would be taken. He was released about midnight.
He added that at one point he was passed a Bible through the food port of his cell, something he said underlined the "ridiculous" situation.
"I believe that every human being should have the right to speak their mind," he said.
"Homosexuals should have the right to free speech, as should atheists, Muslims, Buddhists and Hindus.
"All I'm asking is that we are allowed to be part of the conversation and that society stops treating itself as tolerant when the authorities are intolerant to the Christian point of view."
A spokesman for the Metropolitan Police said: "Police were called to Wimbledon Hill Road, SW19, at approximately 16.40 on Monday, July 1, following reports of a man speaking through a public address system who was alleged to have made homophobic comments.
"Officers attended and arrested the man, aged 49, on suspicion of offences under the Public Order Act.
"He was taken to a south-west London police station and spoken to by officers before being released with no further action later the same day."